Combatting disease with faith, science, and determination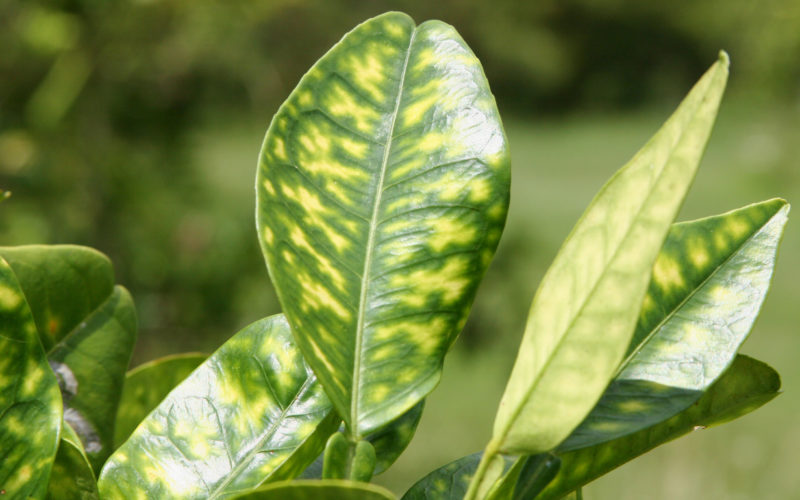 | Growers dig deep as greening takes its toll |
Early fruit drop jarred the citrus industry this season as growers battle the bacterial disease citrus greening, also known as Huanglongbing (HLB). "We were all caught off guard and quite honestly shocked at the devastation," says Mike Sparks, executive vice president and chief executive officer of Lakeland-based Florida Citrus Mutual, the state's largest citrus grower organization. "Last year really showed the devastation of HLB."[emember_protected custom_msg="Click here and register now to read the rest of the article!"]
The U.S. Department of Agriculture repeatedly downgraded its harvest estimate for the state's orange crop, dropping it from 154 million boxes in October to 134 million boxes in June. Florida produced 146.6 million boxes of oranges in 2011-2012, up from 140.5 million in 2010-2011 and 133.7 million boxes in 2009-2010.
Citrus greening, discovered in southern Florida about eight years ago, has proven more challenging than freezes, hurricanes, canker, and nematodes. Some $70 million of private funding has been spent on research to defeat it. While a cure is not immediately anticipated, many growers remain hopeful as strides are made to control the Asian psyllid— which spreads the disease— and discover more disease-resistant rootstalks.
"We have chosen to stay with the citrus crop, which is what we know the most about. We're not experienced at growing strawberries and blueberries and peaches," says 71-year-old Frostproof area grower Ben Hill Griffin III, whose dad was given a 10-acre orange grove as a wedding gift in 1931. "Every challenge that has ever faced the industry through the years— which includes canker, brown spot, spider mites, and burrowing nematode— all these things had to be eradicated. They were eradicated through scientific research."
"We're committed to this business. We think there's a bright future and a profitable future," says Larry Black, general manager of Peace River Packing Company in Fort Meade. "The methods of growing citrus are going to change over time. We're ready and willing to adapt."
"We're still with the hopes that they're going to come up with something that will combat this greening disease," says Kenny DeVane, whose family has grown citrus for five generations in the Fort Meade area. "Our family has always been citrus growers—that's who we are. I guess if the ship goes down we're going to do down with it." Despite his careful optimism, he's keeping an eye on other options. "I don't know what the future might hold," says DeVane, who owns Kenneth DeVane Groves and DeVane Citrus.
The Florida citrus industry has a $9 billion annual economic impact and employs nearly 76,000 people. Commercial citrus acreages in Florida climbed to 941,471 in 1970, but dropped to 531,493 in 2011-2012, the Florida Citrus Statistics report released in March 2013 shows. Polk topped the list for commercial citrus acreages, with 82,572, followed by DeSoto County with 64,258 of the state's acres.
Growers have been battling greening by organizing into Citrus Health Management Areas (CMAs) and coordinating sprays to control the Asian psyllid that spreads it. Since January, they've also been using an interactive mapping program that allows them to view online the psyllid population in their area. Additionally, growers and researchers have been applying nutritional sprays, experimenting with open hydroponics to supply nutrients through drip irrigation, studying anti-microbials, and beefing up grove tree densities.
In southern Polk County, northern Highlands County, DeSoto and Volusia counties, there are higher amounts of coordinated psyllid sprays, which has resulted in a "very low" psyllid count, says Brandon Page, CHMA program assistant.
Despite some gains, the problem hit home for DeVane, who says their groves went from being among the "nicer looking" to among the "worst looking" in a year. "We did not control the psyllid like we should have. We got way too behind," he explains. "It's been pretty painful to ride around and look at . . . When I go out and ride through the groves, I can't wait to get back to the office."
They opted for nighttime aerial fogging machines to control the psyllid, omitting the aerial sprays and limiting the ground sprays. It was intended to cut costs. "We know what works now," says DeVane, who is following industry-recommended standards. "Just because we finally got our psyllid counts down, however, doesn't make greening go away."
Breeders offer hope for more greening-resistant varieties in as early as two years. Jude Grosser, professor of citrus breeding and genetics for the University of Florida's Citrus Research and Education Center (UF/CREC) in Lake Alfred, says field trials are revealing rootstalks with a "lower frequency of infection," and some of them with a "lower severity of symptoms." Growers initially will need to continue nutritional sprays and psyllid treatments, but may be able to drop the expensive psyllid controls within five to 10 years, he observes.
An informal new grower survey sheds light on which scion varieties have been doing better: Temple and Naval, which consistently ranked high among the survey participants. The Nova and Vernia also faired well, while the Minneola, Pineapple, Murcott, Sunburst, Midsweet, and Ortanique varieties rated poorly. The survey by Bill Castle, professor emeritus for UF/CREC, suggests stress caused by the type of soil and other site-specific issues is a factor when examining the effect of HLB on different rootstalks. "Whether current commercial rootstocks offer any advantage … it may be worth exploring further given the grower comments," the report notes. "For example, right now, x639, a hybrid of Cleo x Rubidoux trifoliate orange, is in considerable demand."
The informal survey was conducted during May and June and individuals from all of Florida's citrus production regions were asked to participate. Field situations vary considerably. It can be accessed online at http://www.crec.ifas.ufl.edu/extension/pdf/hlb_scion_survey.pdf
Although things are not what they'd like them to be, growers are digging in for the long haul and remaining cautiously optimistic about the future. "Now's not the time to say it's the end," Sparks says. "I see a light as the end of the tunnel. I just hope it's not a train."
Black, who grows about 2,000 acres of citrus in the Frostproof, Lake Wales, and Fort Meade areas and runs a packinghouse, has expanded by 145 acres in the last 18 months. He's also increased grove densities from 140 trees to as much as 270 to achieve early yields and make the grove profitable— before greening spreads to the young trees. "I feel strongly that there will be demand and the growers, including our company, will be here to meet that demand," Black states.
"By blind faith, if nothing else, we're convinced the scientific research will be beneficial and will cure this disease," adds Griffin. "The citrus industry will come back— and bigger than it is now."
CREDITS
story by CHERYL ROGERS
photo by TIME GOTTWALD
[/emember_protected]