Son of the Highwayman artist finds his calling and captures it through painting
HE GREW UP in an artistic Floridian family and has loved nature all his life, so it makes sense that Daniel Butler has evolved into a talented artist whose work pays homage to this state's natural beauty.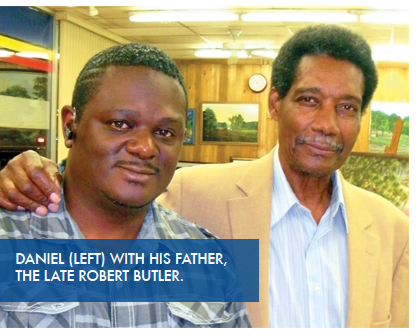 His father, the late Robert Butler, was well known as one of Florida's Highwaymen artists — they sold their artwork on the side of the road years ago and also focused on Florida's natural beauty. The younger Butler, now 50, grew up watching his father paint. He was already drawing a lot by age 12, but had not tried his hand at painting. "I would walk into the studio in the mornings and see my Dad painting, and I thought that was the most impossible thing in the world to do," he says. His father, in his own way, passed on many lessons to his son.
"He looked at my drawings and told me I had done a pretty good job, and asked why I didn't add a little color to it. He kept on encouraging me. I started trying it, and I kept on practicing and practicing, and one day my Dad said, 'Son, do you have anything you think someone else might enjoy putting in their home?' He was leaving to go and sell some paintings. So I told him that I had two or three I thought would work."
At this stage in life, he says, he was feeling his oats and thought he was ready for the big-time. But his father looked at those paintings and told him no — he wasn't ready by a long shot. "I thought that was harsh, but it served its purpose. I worked harder, and a couple of months later, I had completed another painting, and this time he said, "You know what, son? That looks nice. You're almost ready.' What he taught me was patience."
There were nine children in the family; seven are still living. And of those seven, five have the artistic gene. "I learned a lot from my father, and he would give me pointers over the years, but I never developed his style. I developed my own style," he says. His work is more detailed, and his colors are more subdued than his father's more dramatic colors.
A commonality is the focus on Florida and its wonders. "I have been, since I was old enough to walk and comprehend my surroundings, interested in the wonders nature constantly provides," he says. "I remember fondly the family outings we all enjoyed so much. Hunting, fishing, camping, and hiking were activities we looked forward to after school. To me, there's nothing better than an early fog-filled walk in the woods, standing still listening to the quiet around me, smelling the rich earthiness."
Daniel was born in Okeechobee, and has recently moved back to Lakeland permanently. Being an artist is his full-time gig. "My Dad spoke to me about before he passed. He said, 'You know, son, you have a choice. If you are going to be an artist, there are going to be ups and downs. And more downs than ups. But if you don't stick to it, then that's not your calling. Don't cry about it, but you had better find something else to do.' Well, I stuck with it. For me, this is it."
Contact Daniel Butler directly at danielbutlerart@gmail.com. More artwork by Daniel Butler can be viewed at Art & Farming on the Park in Winter Haven. Call (863) 299-7586.
CREDITS
article by MARY TOOTHMAN
painting by DANIEL BUTLER