2018 Florida Citrus Update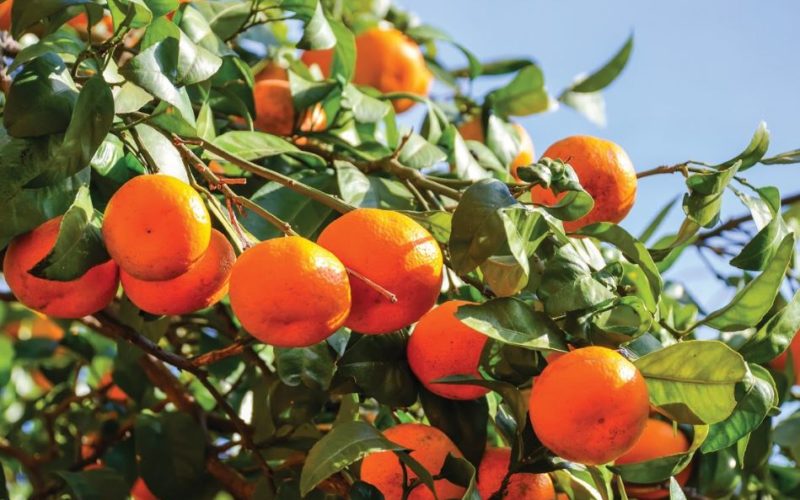 Florida Citrus Growers Fighting Greening with Plant Nutrition, Newer Varieties
The Florida citrus industry is holding on, relying on nutritional methods and newer varieties to buy time until more effective solutions to citrus greening are found.
A company with deep roots in the industry, Tamiami Citrus LLC has recommitted to citrus in spite of greening, planting some 4,300 acres in Collier, Hardee, and Highlands counties in the last three years.
"We're planting primarily juice oranges but using varieties, both rootstock and scion varieties, that have demonstrated resistance to greening disease," says Ron Mahan, chief financial officer. "We are using grove design and management practices that optimize tree growth and root and tree health."
Tamiami Citrus of Fort Myers, partly owned by the Collier family after whom the county is named, formerly was Orange-Co. It rebranded, with a new name and new trees, and in the process sold off its mature citrus groves in DeSoto and Charlotte counties in late 2014.
It now is focusing on management practices like more frequent fertilization. "Thirty years ago citrus was much easier than today," he says. "The tree health is a day-in and day-out thing."
Mahan expects more growers to replant newer varieties as they gain confidence they can grow trees in the "age of greening disease."
The Florida citrus industry, which has been battling citrus greening disease since it was discovered in 2005 in South Florida, also took a hit when Hurricane Irma plowed through the state in September 2017. "Hurricane Irma set us all back pretty hard," Mahan acknowledges. "Disaster assistance will be helpful."
Charles Counter, owner of Haines City's Counter Ag Services, says he's now regaining optimism for the next harvest. "We're break-even, to positive cash flow, now on many groves," says Counter, who caretakes some 2,000 citrus acres and owns another 200.
Besides bolstering tree health, growers have been utilizing a variety of other strategies to limit the impact of the disease, including raising citrus under protective covering, spraying to cut populations of the Asian psyllid spreading it, and planting more trees per acre.
Steve Callaham, executive vice president and chief executive officer of Dundee Citrus Growers Association, says trees should be planted in its Citrus Undercover Production System known as CUPS by October or November.
"We are still in the due diligence portion of looking at a phase 2," he adds, saying there is "pretty high confidence we'll be moving forward with that."
The site would be in Polk County, but several locations are under evaluation, he says.
Counter, who's been experimenting with the single-unit tree covering Tree Defender for the last nine months, says results so far are "very positive."
"We've saved a tremendous amount of money on young tree care with regard to insecticides and psyllid control," he explains.
In its June crop forecast, the U.S. Department of Agriculture was projecting 44.95 million boxes of oranges statewide for 2017-18, down from 68.85 million in 2016-17 and 81.7 million in 2015-16. Grapefruit production was expected to slip to 3.88 million from 7.76 million in 2016-17 and from 10.8 million in 2015-16. Tangerine and tangelo production was anticipated at 750,000 boxes, down from 1.62 million in 2016-17 and 1.41million in 2015-16.
Polk County ranked second in citrus production in 2016-17, with some 11.647 million boxes, according to Florida Citrus Statistics, released in March by the Florida Department of Agriculture and Consumer Services. DeSoto ranked first with some 11.669 million boxes.
Growers have been looking for relief as production dwindles. "Their big concerns now are what can you give me today to stay in business," points out Michael E. Rogers, director and professor at the University of Florida/Institute of Food and Agricultural Sciences Citrus Research and Education Center in Lake Alfred.
The focus is on nutritional programs that help the trees produce and survive. "Controlling the psyllid is becoming more and more difficult now because of insecticide resistance," explains Rogers, who holds a Ph.D. in entomology.
Growers may be hearing about a couple of shorter term greening remedies they can experiment with. One is a Homobrassinolide product in testing after Cuban research on a related plant compound, epibrassinolide, Rogers says.
Epibrassinolide was applied in Cuba as a foliar spray to infected trees, with positive results, according to a Plos One article published in January 5, 2016.
"Our researchers at UF/IFAS are testing the Homobrassinolide specifically because there is a Homobrassinolide product that is currently registered and available for use in Florida Citrus," Rogers says. "In the short time they have been following the field trials, they have seen what appears to be a beneficial effect."
While it's early to draw conclusions, the CREC is "cautiously optimistic that there may be value in this currently available product as another tool growers can use to keep trees productive," Rogers says.
More information on the trial will be available at the Florida Citrus Expo, where Dr. Fernando Alferez will be giving a presentation on it August 16 at Lee Civic Center in Fort Myers. "It will require some more time to get more data from the field before we can draw any conclusions or make any recommendations on using this product, but this doesn't prevent Florida citrus growers from doing their own small-scale field trials with the product on their own," Rogers says. Expo information is available at http://citrusexpo.net/.
The other remedy is based on Japanese and U.S. patents and involves iron sulfate and citric acid. Randall Niedz, a research geneticist at the USDA in Fort Pierce, is sharing the research, with details posted on the Indian River Citrus League website under "Iron Project."
Niedz, who holds a Ph.D. in plant breeding and genetics, doesn't know if it works. But growers can experiment and interested persons are advised to contact info@ircitrusleague.org.
"At this point, if you can't test it in the field then you're just wasting your time," he says. "People need something now."
Meanwhile researchers are continuing efforts to develop more citrus varieties that can thrive in spite of greening. Among them are tangors, a cross between oranges and tangerines they began studying about three years ago. "Breeding an HLB [Huanglongbing or greening] tolerant orange is a difficult task," acknowledges Jose Chaparro, associate professor of Fruit Tree Genetics at UF in Gainesville.
A long-term solution may be a tangor with greening tolerance, but it's far from ready yet. A grower may be able to get it in six years. "The juice industry really needs to decide what they want to be selling," says Chaparro, who holds a Ph.D. in plant breeding. "We need to be realistic in terms of what's happening out in the field."
The taste is similar to a tangelo/orange juice blend, with a more intense color and different aroma than orange juice.
In recent years, there also has been more interest in single-serving size fruit without seeds, like the easy-to-peel Clementine, in response to interest from consumers.
"Growers are looking at anyway they can to maximize returns," Callaham says. "I think there's an increased interest from growers in the fresh market in an effort to try to maximize or increase their farm returns."
Despite interest in fresh fruit alternatives to juice oranges, nurseryman and grower Bill Weinkauf believes juice oranges are the "backbone of the industry." "It appears to be that anything you do to improve plant growth may help forestall some of the bad effects of greening," he says.
As growers grapple with the after-effects of Irma, they've been attending a series of meetings around the state to learn more about relief provided through the USDA Farm Service Agency's Wildfires and Hurricanes Indemnity Program. "It's better than nothing. It's kind of a little too late," says Phillip Rucks, owner of Phillip Rucks Nursery in Frostproof.
Weinkauf, of Ww Citrus Nursery Inc. in Fort Meade, estimates 20 percent of his nursery crop was impacted when three bays at the nursery collapsed in the storm, affecting roughly 18,000 citrus trees. "The building fell on some of them, crushed them. They were badly damaged," he reports. "We just had to total them out."
About 30 percent was salvaged and under cover in 24 hours, he adds.
So far, tree recovery from the storm seems to be proceeding pretty well. "It looks like we have a pretty good crop," Weinkauf says. "The question is can we keep them on the tree."