Dundee Citrus Growers Association Expanding CUPS Acreage
by TERESA SCHIFFER
Steve Callaham and the Dundee Citrus Growers Association are so pleased with the success of their citrus grown under protective screens — or CUPS — that they recently announced they are expanding the project to nearly double their current acreage. They currently have 300 acres in the Lake Wales Ridge region, just east of Bartow in Polk County, with more than 300 citrus trees per acre planted using the CUPS method.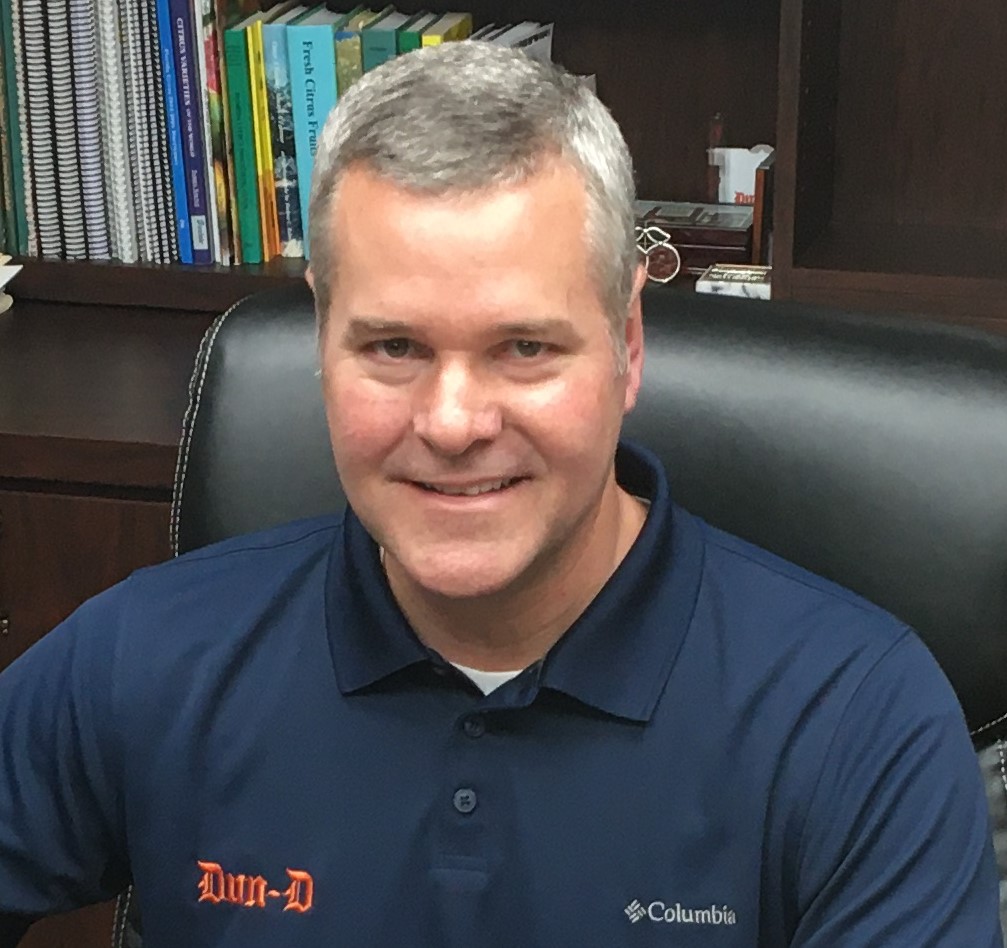 Callaham is the CEO of Dundee CGA, and he knows all too well how citrus greening has affected the Florida citrus industry. In 2015, he became aware of the work being done in Lake Alfred by Dr. Arnold Schumann at the UF/IFAS Citrus Research and Education Center and was immediately intrigued.
Schumann had created a screen structure covering approximately one acre at the research center. The structure protects trees from greening by creating a physical barrier that prevents the psyllid vectors from accessing them, while still allowing the trees to get plenty of sunshine, fresh air, and rain. So far, this innovation has proven to be a highly effective method of controlling greening that is also environmentally friendly.
"It looks like a very large, fully enclosed, screen house," Callaham says of the CUPS design. "Once you construct the screen house, you plant your citrus trees inside of it, so you have an environment that is free of citrus psyllids."
In 2017, Callaham and Dundee CGA began construction of the first phase of a major CUPS project, a 110-acre installation in Polk County. That was completed and fully planted in the spring of 2019. The second phase was 113 acres, completed in 2020. Another 72 acres were completed in a third phase in 2021. There are a couple of other growers affiliated with Dundee CGA also currently utilizing the CUPS strategy in Polk and Highlands counties, for about 500 acres in total at this point.
The oldest trees are now producing commercial-level quantities of fruit, so growers are seeing the positive results that inspire them to further expand the use of CUPS growing.
"We are breaking ground on a new project in southern Polk County that will contain approximately 500 acres of citrus under protective screen," says Callaham. "Altogether, we'll be handling the harvesting, the packaging, and the marketing off of 1,000 acres."
The cost associated with using the CUPS design will vary according to the specific site needs of each grove, but Callaham and Dundee CGA are seeing an excellent return on their investment already.
"There's a lot of benefits around it," Callaham describes. "We're able to produce five times as much fruit per acre, which has a real environmental benefit. We're using less land. We're using less water. We're using less inputs to be able to produce more, so it's a very environmentally friendly growing system."
When it comes to yields, Callaham believes that citrus trees that are grown under protective screens will exceed pre-greening levels of production.
"The trees themselves are extremely healthy," explains Callaham. "They're not diseased trees, so they're not requiring as many inputs as a tree that would be unhealthy, or sick, or diseased to be able to produce the crop. When you have a very healthy tree, you can produce a lot of fruit per tree."
The enclosed nature of the CUPS system creates an environment that can be more effectively monitored and controlled by growers. If a structure becomes damaged, such as can occur during a hurricane, it is then possible for psyllids or other pests to be introduced to a growing area. However, as the structure is repaired and the interior environment is again separated from the exterior landscape, it becomes much easier to eradicate pests like psyllids before they can inflict severe damage on a grove or move on to affect other growers.