Diversity in Action at the Spring Lane Ranch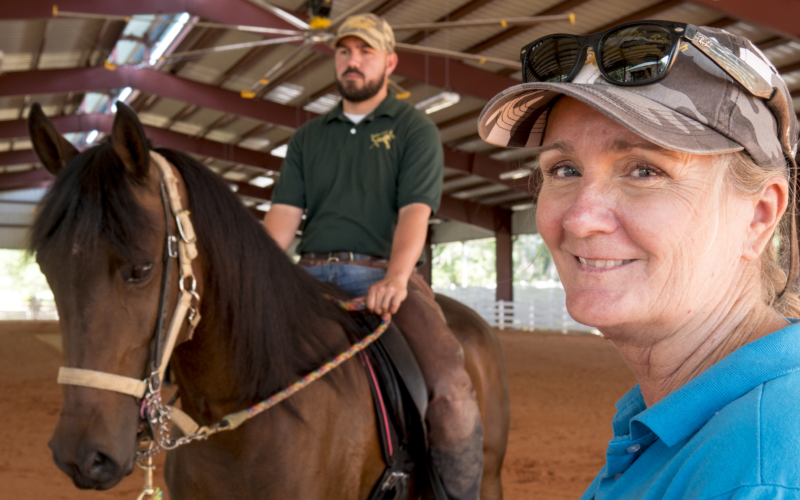 A Ranch Where a Variety of Equine Training Methods and Cultures Converge
If you're looking for an example of diversity in a field, look no further than Spring Lane Ranch in south Lakeland. Owners Heather and Darrel Shea have brought together a team of horse trainers who exemplify the notion that a variety of styles can coalesce to create a greater outcome. A visit to the property shows a vibrant team brimming with enthusiasm for their work and confidence in each other's skills. Heather Shea and her trainers share about their thoughts on diversity in horse training.

Known to some in the area as the "Princess of Spring Lane," Heather Shea started with a barn on her property while making separate trips to Tampa to ride her Saddlebreds and Ocala to ride her Paso Finos. She resolved to bring her horses home, and that's when she began to assemble a top-notch team of trainers. The cost of the arena and other structures prompted the Sheas to open their doors for training, rehabilitation, and more. She got her first horse at the age of 10 and competed in her first show in Winter Haven around the age of 12. Inexperienced and somewhat panic-stricken, Heather and her pony managed to take 4th place. That kicked off a love affair with raising and showing horses.
Betsy McHugh is one of the trainers at the ranch, renowned for her patience with the animals as well as her analytic outlook. Her great-grandfather had owned a chain of livery stables along the eastern seaboard, then her grandfather was known as a horse whisperer throughout the Pennsylvania hills. Though her mother "escaped" the farm, Betsy spent time with her uncle learning to love horses, and after a stint in veterinary college followed by a five-year apprenticeship, she became a trainer. She was immediately drawn to horse training and devoted her life from that point to her calling. She is now an esteemed international judge, as well as instructor, mentor, clinician, and consultant in multiple breeds and disciplines.
She works closely with Anibal Garriga, who is from Puerto Rico. Betsy takes a more classical dressage approach to training, whereas Anibal uses techniques derived from the historical Spanish style of equine training. The Spanish training tends to be more anecdotal and geared towards equipment training, whereas the classical style is more scientific and has been around since ancient Grecian times. Betsy and Anibal agree that both styles have their place in modern training, and the two professionals are able to combine them to find what works best for each individual horse. "When you can marry those techniques, and get rid of what's not working," explains Betsy, "you come out with a horse that is superior."
Masha Budden is an equine sports massage therapist at Spring Lane Ranch, who also helps out with office duties. Masha hails from Calgary, Alberta, and grew up influenced by the Calgary Stampede, an important rodeo circuit, and Spruce Meadows, the show-jumping competition. Masha knew from very early on that she wanted to work with horses. She began her education by studying kinesiology and physical education, as she aimed to become a personal trainer or fitness instructor. Like many other trainers, she was pulled back to horses. She found a job with a standard racing facility in New Jersey where she began to compare the way equine athletes were treated as opposed to humans. Now she oversees a variety of rehabilitative services at Spring Lane Ranch, including aqua therapy and TheraPlate offered on-site.
Alex Zapata is a native of Puerto Rico, where trail riding is a popular pastime. He grew up enjoying riding, and as a child had the good fortune to meet famed trainer Juan Ramon Figueroa while visiting his grandparents in Ocala, Florida. Riding was so ingrained in his upbringing that he believes "it's more of an experience than learning." Figueroa was a big influence on the young Alex, teaching him the many tasks associated with horse keeping. For Alex, the most important thing to remember while training is to be patient and calm. "If you go to the horses with a scared attitude, they sense that, so they'll take more advantage of you," he points out.
Anne Judd is a trainer who was raised in Louisville, Kentucky, from a long tradition of horsemen. Her great-grandfather raised three Kentucky Derby winners. She grew up raising horses and showing in the Midwest circuit. At the age of four, her childhood instructor, Helen Crabtree, suggested that her parents get her something safe to ride, and that's how she acquired her first American Saddlebred. Anne went to school to be a teacher. Then she got a call to teach horse lessons. She married a horse trainer, and the rest, as she says, is history. She's seen a lot of changes take place over the years in the industry, including a greater inclusion of women. Though she considers herself in the old guard of horse trainers, she tries to stay abreast of current research.
Mark Wilson was raised on a successful Hackney pony farm, so he also has deep roots with horses. He loved watching horses progress under the watchful eye of well-respected trainers, and was soon training his own horses to show. He would visit the trainers he admired during vacations to help train young horses, gaining valuable experience. He sees the field of horse training as evolving, working with the animals instead of creating a fear-based persuasion.
The Shea's team of trainers and staff push their horses to do well, but that doesn't mean they push the horses beyond their limits. They aren't focused on the prize— they have their sights set squarely on the well-being of the animal. "We'll get the ribbon because we deserve it"— That's Heather's attitude towards training horses. The feeling at the ranch is that of a family— not without squabbles and differences of opinion, but with a strong undercurrent of mutual love and respect. Every single person at Spring Lane Ranch shares one primary mission— the well-being of the horse. They coax the horses into loving what they do, and the horses respond marvelously to their deft training ability.
story by TERESA SCHIFFER
photos by LUIS BETANCOURT