2018 Florida Agriculture Woman of the Year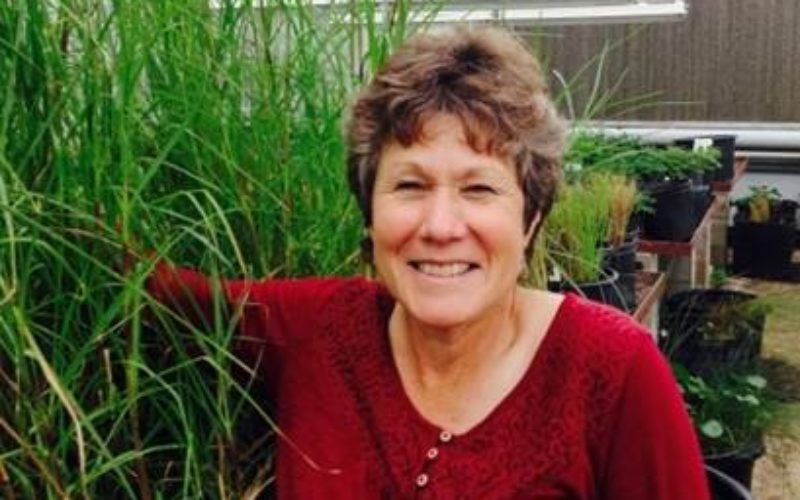 Dr. Ann Blount wouldn't use the word "surprised" as her reaction to being named the 2018 Woman of the Year in Agriculture.
"It came more of a shock than a surprise," says Blount. "I mean, I know a lot of the former recipients and there are a lot of women in agriculture who are more in the public view, and doing a lot more than I am."
While the award may have come as a shock to her, to those who know her, the award is well deserved.
Dr. Blount's 30-year career with the University of Florida has been filled with significant contributions to the state and national agriculture industry. Her forage breeding program and University of Florida/Institute of Food and Agricultural Sciences activities have improved the production and efficiency of thousands of acres of Florida's forage varieties. She holds six plant patents and plant variety protection, as well as 76 cultivars and germplasm releases and forages.
Her experience in the field is matched with her academic and educational achievements. Dr. Blount has published two book chapters, 198 refereed articles, 385 non-refereed articles, 22 national and international presentations and 28 refereed Extension articles.
"Throughout her career, Dr. Blount's extensive research and techniques have incorporated Florida's unique natural resources to bolter out the agriculture industry," said Commissioner Adam H. Putnam when he announced the award in September.
A self-described "Double Gator," Blount earned a master's degree and Ph.D. from the University of Florida in Plant Breeding and Genetics. Her research of breeding efforts on physiological aspects of fall forage has yielded specific breakthroughs in improved bahiagrass, evaluating new perennial peanut varieties, and enhancing small grains and ryegrasses.
Blount joined the faculty of UF/UFIAS in 1988, and she currently serves as an extension specialist and professor of forage breeding and genetics for the universities North Florida Research and Education Center in Quincy. Her hands-on approach when it comes to training new and veteran extension agents helps them easily learn best practices in the implementation of innovative foraging. She also trains landowners to test new livestock forages and wildlife blends to assess potential use on their properties.
Dr. Blount has seen the opportunities for women in Agriculture blossom since she first entered Texas A&M University to study Crop Ecology in 1974. When she first got there, she said that there was only one woman in the department. By the time she left, nearly half were women.
"I tell students and women today that there is no glass ceiling any more when it comes to agriculture," she says. "There are excellent scientists, women in management, in the production areas. The opportunities are there."
Dr. Blount says that getting more women into the field is a matter of making sure women are more secure in their knowledge of the STEM areas. Knowledge is the key, she says.
"For any woman who is going into an industry that is still predominantly male, you have to be competent," she says. "You can't just be a woman in the agriculture field, you have to be competent."
Securing and maintaining opportunities for women is vitally important for the agriculture industry as it faces a key time for the state and the nation, says Blount. The opportunities are there, she says, and, to a certain extent, will always be there.
"Agriculture is the backbone," she says. "There are other industries — hospitality and tourism, for example — that are important, but at certain times of economic troubles they are limited. Agriculture is always important because we have to find ways to effectively feed our people."
The Woman of the Year in Agriculture Award is sponsored by the Florida Department of Agriculture and Consumer Services as well as the Florida State Fair Authority. The award, now in its 34th year, recognizes women who have made outstanding contributions to Florida agriculture. The award will be presented during the 2019 Florida State Fair in Tampa.
by TIM CRAIG