by BRAD BUCK, UF/IFAS correspondent
photos by TYLER JONES, UF/IFAS
A new algorithm is set to further bolster the credibility of the Florida Automated Weather Network (FAWN), a system that farmers count on for such data as temperature, humidity, wind and rain.
Among other improvements, the technology will send an email to FAWN technicians, letting them know when readings are out of a normal range, said Rick Lusher, director of the UF/IFAS-run system. It will also review historical meteorological data in a matter of minutes – rather than days – to check if readings are outside normal parameters.
"Everything on our website is data driven. If we can tell the user that we have a daily quality assurance process to make sure our data is reliable, that makes us that much more trustworthy," Lusher said.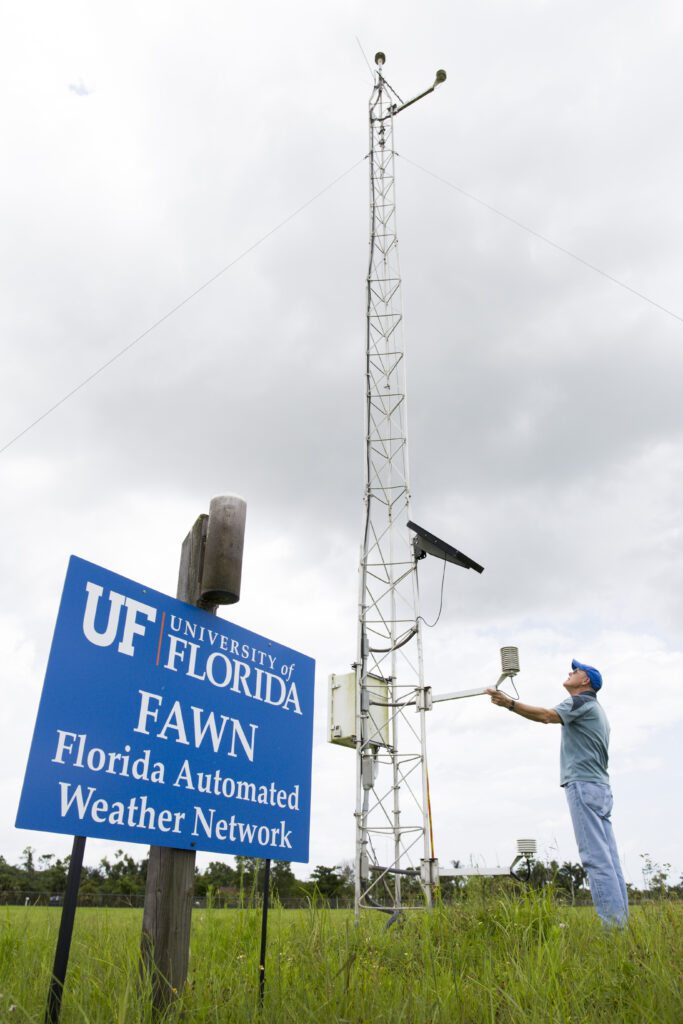 In existence for about 25 years, FAWN provides real-time data and helps agricultural producers make decisions related to irrigation scheduling, freeze protection and chemical application. FAWN has stations in remote areas from the Panhandle to Homestead.
Even though the system's measurements are already highly accurate, the algorithm will help enhance FAWN's datasets, Lusher said.
Currently, FAWN relies on a fairly basic quality control process. In the field, technicians check sensors annually using what Lusher calls a "black box."
"It's like a FAWN station in a box," Lusher said. "You set it next to the (FAWN) tower. You check the station data against the black box data and see if they agree within certain percentages. If station data are outside those percentages, FAWN technicians replace the sensor."
That seldom happens – maybe once or twice a year, he said.
"We do all we can as humans to ensure the FAWN data are as accurate as they can be," Lusher said. "That includes routine station maintenance and field testing with the black box, but we collect so much data that it is impossible for us to sit and look through all that data every day and spot suspect measurements."
"The algorithm will do that," he said. "It will automatically go through all the data every day and look for odd patterns using statistics, compare the data to historical values, compare values at nearby stations, etc., and then let us know if anything looks suspicious. A human can't do that."
The algorithm is being developed by Ziwen Yu, a UF/IFAS assistant professor of agricultural and biological engineering.
When it's completely implemented – in the next year or two, the algorithm will check FAWN data, including temperature, and compare those values to historical readings to ensure FAWN values are reasonable.
When readings are way off, they will be labeled out by the algorithm running daily, and FAWN technicians will receive an alert at the same time, telling them that data or a sensor might be suspect.
"That alert lets FAWN technicians know to keep an eye on that sensor," Lusher said.
The algorithm will be run automatically on a server on the main UF campus in Gainesville.
The algorithm, while useful, will not replace FAWN's technicians, but will leverage their efficiency in identifying faulty sensors and maintaining the functionalities of FAWN's weather stations.
"Our technicians go into the field to test individual sensors to make sure they are functioning properly and to do routine station maintenance – a critical part of our program, so technicians are still needed for FAWN to work properly," Lusher said.