Polk Graduates Talk About the Ag Programs That Sparked Their Careers
by TIM CRAIG
For more than 70 years, Polk County schools have had agricultural programs as part of their curriculums. These programs have given students the opportunity to learn about an industry that is part of the fabric of the region. The Polk County School Board Agricultural Programs serve roughly 13,000 students through 17 high school programs, 18 middle school programs and three ESE Center programs. Each one of those students is given skills that apply to the agricultural industry and beyond.
It's not just the children of active farmers, ranchers, and growers who get involved in the agricultural education programs. The students in these programs come from all backgrounds.
Finding a community
Anna Plair, a 2017 graduate of Frostproof High School, did not come from an agriculture background. Her mother is a nurse and her father is in law enforcement. She came to agriculture education in middle school as a way of finding a community.
"Frostproof is both a middle school and a high school," Plair says. "I didn't know a lot of people, so I was trying to find my niche. I joined the FFA, and at my first meeting, I met the teachers, and they gave me a great foundation that continued throughout my time there."
For Plair, the educational programs were about the opportunities to interact with professionals in the field and be exposed to the many different parts of the agriculture industry. Each one of those opportunities is another chance to get experience, she says.
"You can honestly make connections and meet people who are willing to teach you about agriculture," she says. "Ag, in many ways, is about who you know, and through the Polk County Agricultural programs, I have been able to meet some amazing people."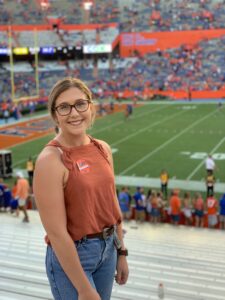 It was through those connections that she found her passion. Her initial interest was in Animal Sciences, and with the help of her high school Ag department, she was able to connect with a veterinarian to work with large animals. Later, she was able to work with a local dairy farm and learn more about that industry, which was struggling at the time.
"It ignited a passion for the dairy industry," she says. "When I toured the dairy at the University of Florida, the table started to turn for me to pursue dairy as a career."
Now a senior at the University of Florida, Plair is scheduled to graduate in 2021 and she says she is fully ready to enter the industry — not only because of her collegiate coursework, but also from the experiences in the Polk County agricultural programs.
"I use some of the exact same skills I did in the Frostproof agricultural program right now," she says, "along with the FFA focus on public speaking. I learned how to talk to crowds and be at ease in that setting. It's those things I learned while in ag programs in middle school and high school that helped prepare me for my academic career and my future."
It Started With a Pig
Like Plair, Bristol Wells did not come from an agricultural background. She attended McKeel Academy in Lakeland until the eighth grade before switching to Lake Gibson Middle School.
"I made the switch because I wanted a pig," says Wells, "but from the first class, I fell in love with the industry, every bit of it."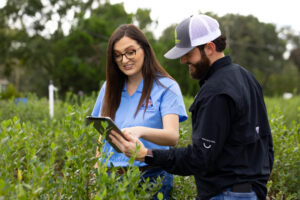 That first class also gave Wells a glimpse of the FFA programs, and she really got involved. By the time she was a junior at Lake Gibson High School, she joined the Polk County FFA Federation.
"I competed in anything they'd let me, from forestry to horticulture," she said. It wasn't just the competitions that spurred her forward, however. The experience gave her a perspective and exposure to the business side of things that her peers outside of the agricultural programs didn't have.
"You get a lot of industry exposure and you begin to see how the industry works," she says. "When you take part of a career development event or a supervised agricultural experience, you get to see different aspects of the business and how they fit together."
The agricultural programs also put a premium on the "soft skills" that employers look for through everything from networking to interacting with industry leaders.
"After going through the ag education process, I knew how to fill out job applications, I knew how to create a resume and I knew how to talk to the big wigs," she says. "I was career-ready when I graduated high school: I knew how to network properly, how to talk to people. I attribute that to the Polk County School Board programs."
Now, Wells — complete with a degree in Agriculture from Warner University — has been working at Highland Ag Solutions in Mulberry for two years, currently in the marketing and customer experience areas. When she started at Highland Ag, though, she was counting blueberries … and keeping meticulous records of it. She knew exactly what to do and, more importantly, why.
"There was a lot of record-keeping when I raised that first pig," Wells says, "and understanding that one skill, and countless others like it that I learned as part of my Ag education, has come in handy throughout my academic and professional career."
Giving Back
From the hands-on experiences to the competitions, these programs not only help students understand the rich, agricultural heritage in Polk County, they also help secure the industry for the future.
Those who have been through the programs wouldn't have it any other way.
"I have always wanted to give back to these programs. Any contest that I can judge, I volunteer. Before COVID, I was going into the schools to speak," says Wells, who went back to the program she attended as a youth — this time she spent a year there as a teacher.
"I just have a big heart for the ag industry and a big heart for the generation coming up now."