Peeling back to the good stuff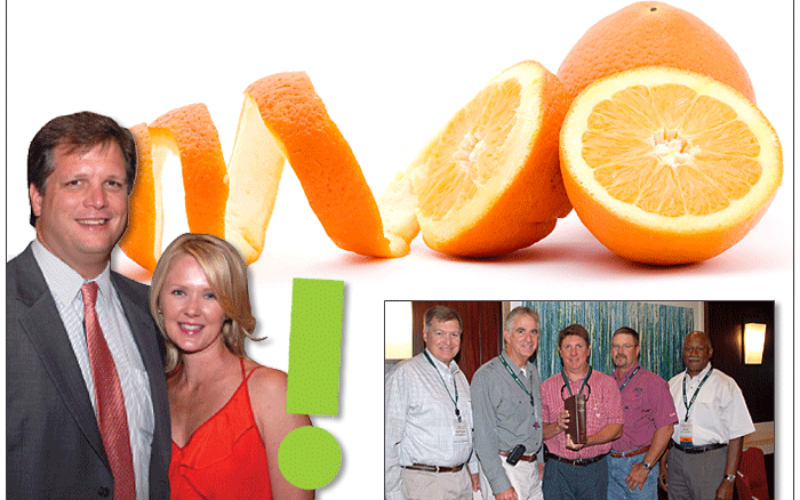 | Citrus annual conference has become industry staple |
More than 650 people attended the eighth Florida Citrus Industry Annual Conference in June at the Coconut Point Hyatt in Bonita Springs, making it a smashing success.
The 2012 conference was packed with fun, business, and education. Thursday night's premier banquet attracted 400 people and closed with the comedy of veteran funnyman Dick Hardwick. This was just a terrific event, and I personally thank my staff for the great job they did pulling it off.
Governor Rick Scott once again spoke to a conference VIP luncheon on the event's first day. This is the third year in a row he has made an appearance at the conference. The Florida citrus industry has developed a solid relationship with our governor, who understands the importance of agriculture, particularly citrus, to the state's economic well being.
Governor Scott chose the luncheon to break the news that he is no longer supportive of mandatory E-Verify. Governor Scott put forth at this event that immigration reform needs to be initiated at the federal level, not piecemeal at the state level. I think his stance evolved because the state's business community, including agriculture, worked hard to educate him on the realities of Florida's workforce. This should bode well for us, as the debate is sure to come to a head during the 2013 legislative session in Tallahassee.
But Governor Scott was not the only high-profile elected official to attend the conference. Commissioner of Agriculture Adam Putnam and congressmen Dennis Ross and Tom Rooney also made appearances to talk about various issues facing Florida citrus. In addition, a number of state elected officials showed up.
The Educational Session drew almost 300 people and touched on some of the industry's critical issues: Disease research, mechanical harvesting, and OJ marketing. Harold Browning, the chief operating officer of the Citrus Research and Development Foundation, gave a broad overview on how the CRDF allocates grower tax dollars, while IFAS researchers Lukasz Stelinski and Michael Rogers top-lined the latest in psyllid research and cooperative spray data.
The conference silent auction had many crowd-pleasing items, from citrus-themed artwork to hunting trips and getaway vacations. The auction ended up raising more than $26,000 for FCM's state Political Action Committee. That money will go to good use communicating citrus issues to candidates as the election season goes into full swing.
The golf event at Raptor Bay drew 60 participants, while 53 people went on the family fishing excursion out of Fort Myers Beach. The new Citrus Open tennis tournament was also a success.
The Friday night dinner was a good time for more than 300 attendees. Diners were treated to a full spread of lobster, steak and shellfish. New Mutual President Mark Wheeler emceed and then a DJ took over and the dance floor got wild with parents and children dancing up a storm. It was a great scene.
The conference really has become what Florida Citrus Mutual envisioned initially — a family-oriented gathering that brings our industry together. Many of us in Florida citrus have known each other for a long time, and it is good to have a forum to decompress and reflect at the end of the season.
Next year's conference will again be in Bonita Springs on June 12-14, so mark your calendars. We will see you there!
CREDIT
article by MICHAEL W. SPARKS
The author is executive vice president and CEO of Florida Citrus Mutual, the state's largest citrus trade organization with almost 8,000 members.