Picking Up the Scent on Mosaic's Good Will Toward Men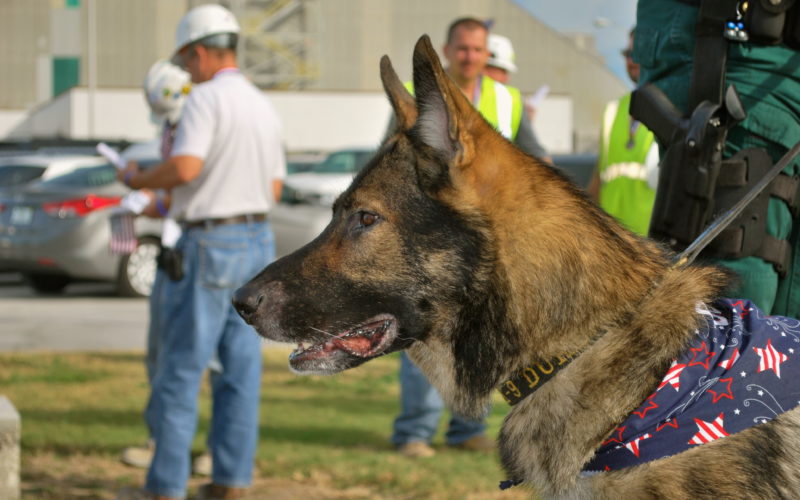 New Sheriff's K9 to be Named Matrix
The Polk County Sheriff's Office is getting a new four-legged recruit: Matrix. The dog, probably a German Shepherd, is being purchased with $8,000 donated by The Mosaic Company, a phosphate mining company based in Plymouth, Minnesota. Suitably, the name is derived from a mining term for phosphate ore, a mix of phosphate, sand and clay found 30 feet underground. [emember_protected custom_msg="Click here and register now to read the rest of the article!"]
"Typically the dogs have all been purchased through the community," says Sgt. Kenny Hill, who heads the Sheriff Office K9 unit. "Mosaic has always been very helpful."
Florida's seventh largest landowner, Mosaic, has allowed the Sheriff's Office to train K9 recruits on its property. "You want to expose these dogs to as many different areas and environments as possible," Sgt. Hill explains.
The Sheriff's Office has 23 dog teams, the bulk of which are German Shepherds. Two bloodhounds, one German Short Hair, two Labrador Retrievers, and a Belgian Tervuren are included. Dogs are used for patrol, in apprehending suspects, as well as to sniff out narcotics and explosives. They are specially trained for narcotics or explosives. "We look for the best dog," he explains.
German Shepherds are often chosen because they typically have high drive and don't want to give up until they succeed, earning a toy or treat, he says.
Mosaic donated the money for the new dog during its Veteran's Day ceremony at their New Wales facility in Mulberry. The dog will be purchased sometime before March, then undergo 680 hours of training before reporting for duty. "We put them through our own training," Sgt. Hill says. "The handler is directly involved."
Callie Neslund, Mosaic's public affairs manager in Polk County, says the company's employees suggested names for the dog. "They [sheriff's deputies] had a need come up with their retiring canine," Neslund explains. "It was kind of a unique opportunity. We could engage some of the employees, talk about name ideas."
More than 300 Polk-based employees submitted names. The final selection was chosen through a community contest on the Mosaic in Polk Facebook page.
Mosaic, formed in 2004 when Cargill and IMC Crop Nutrient Division were merged, employs 3,200 in Central Florida. In Polk County, Mosaic owns two fertilizer manufacturing facilities and three mines: Four Corners, Hookers Prairie, and South Fort Meade.
One of the world's leading producers and marketers of concentrated phosphate and potash crop nutrients, Mosaic is helping farmers produce more food per acre with phosphate and potash fertilizers and feed ingredients.
The Mosaic Company Foundation donated about $11.4 million to charity in Central Florida and Louisiana last year.
At the ceremony, 41 employees who formerly served in the military were recognized for their service.
It's uncertain exactly what will be Matrix's beat on the force. That depends on which dog will be allowed to retire first. Regardless, it looks like he already has some friends. Neslund says, "We're hoping next year he'll come to visit us for the Veteran's Day ceremony."
story by CHERYL ROGERS
photos by CAITLIN HALL