2014 American Honey Queen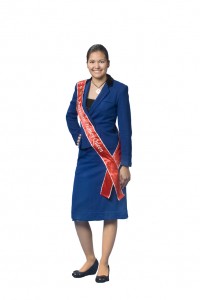 Hometown: Orlando, Florida
Royal Duties: Promotes and raises awareness of the beekeeping industry through presentations and appearances at venues around the nation.
GIRL BEHIND THE SASH
Susannah Austin first got interested in bees when her brother Gordon did a 4-H project on them. Her Orlando area family kept bees for at least a decade, and she learned how bees help plants grow. "I really enjoyed it. It was a great way […] to learn as a kid that not all stinging insects are bad," she recalls.
Today the 19-year-old is studying biology at University of Central Florida and is hoping to pursue a graduate's degree in veterinary science. "Insects are very interesting the more you learn about them," she says. "I want to be a veterinarian and that's been a goal for a long time."
She began serving as American Honey Queen in January, traveling to different states talking to school groups, 4-H groups, Boy Scout groups, and "anyone who's interested in beekeeping," she says. She also served as 2013 Florida Honey Queen and Orange Blossom Beekeepers Association Queen in 2012.
"There's a lot of concern about what's going on with honeybees," she says. "In general, we're just trying to raise awareness." After she steps down as queen, she says she may look into studying more about insects and bees and investigate career paths that relate to veterinary science.
2013-2014 Florida Cattlemen's Sweetheart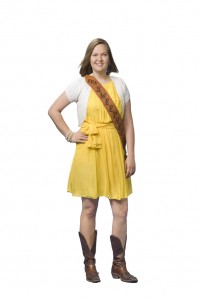 Hometown: Lake Wales, Florida
Royal Duties: Increase awareness as well as promote the BEEF and cattle industry through venues and events around the state.
GIRL BEHIND THE SASH
A third generation cattlewoman, Harley Zoeckler grew up around cows. So it's only natural she wants to tell others about the industry that has been her family's livelihood. As Florida Cattlemen's Sweetheart, the 20-year-old has an opportunity to do just that. "To me, it's important that we highlight the many diverse aspects of the industry," says Zoeckler, a Frostproof High School graduate, who keeps a commercial herd of 10 to 15 head.
She believes the goal of the Florida Cattlemen's Sweetheart is to help people have "a positive view of beef." Her job includes handing out beef samples at the grocery, talking to parents, and making school presentations about beef. She also writes a journal in The Florida Cattleman, the organization's Kissimmee magazine.
"I've been all over the state this year," she says. Zoeckler took some time off school to devote to her duties as Sweetheart, but plans to return to Polk State College in the fall and later transfer to the University of Florida, Plant City Campus, to major in ag communications. Her goal? To be a pharmaceutical representative for animal health.
2014-2015 Polk County Cattlemen's Sweetheart
Hometown: Lakeland, Florida
Royal Duties: Assist the Polk County Cattlemen and Polk County Cattlewomen in efforts to increase awareness of the BEEF and cattle industry.
GIRL BEHIND THE SASH
Hailey Tomkow is no stranger to the cattle industry. Her dad, Dave, and uncle Mike, run Cattlemen's Lifestock Auction Market and Tomkow Brothers ranch in Lakeland.
Twenty-year-old Tomkow represents the local industry by promoting BEEF in the county. "I love cattle," the Polk State College student says. "I want to help promote BEEF in our state and in our country. I think it's important that people know about the cattle industry in our state."
Her duties have already included talking to fourth graders at Polk County Farm Bureau's Agri-Fest and giving presentations to civic groups. "The more people learn about our cattle industry, the more they will know that BEEF is healthy to eat," Tomkow says.
She's also working part-time at the Livestock Auction and doing ranch work. She wants to transfer from Polk State to the University of Florida to earn an animal science degree. After completing school, she may get into feed sales or be a sales representative for animal medicines.
"In the long run, I want to work in the livestock market," says Tomkow, who is seeking the Florida Cattlemen's Sweetheart title in June at the annual Florida Cattlemen's Association Conference.
2014 Strawberry Queen
Hometown: Plant City, Florida
Royal Duties: Represent the Florida strawberry industry at notable events, such as the Florida Strawberry Festival and parades.
GIRL BEHIND THE SASH
In Plant City, dubbed the Winter Strawberry Capital of the World, little girls aspire to be Strawberry Queen. "You always look up to the Strawberry Queen," says 18-year-old Jessi Rae Varnum. "You realize it's so much more than a crown and sash. It has weight to it."
Varnum, daughter of 1985 Strawberry Queen Kay Newsome Varnum, is serving as 2014 Strawberry Queen, a title she will hold until next January. "I'm so honored for this opportunity," she says. The Strawberry Queen represents Plant City, most notably at the popular Florida Strawberry Festival and parades.
A Durant High School senior, Varnum learned firsthand about growing strawberries in Turkey Creek Middle School's National FFA Organization chapter. She plans to attend Florida Southern College in the fall, possibly to study marketing and communications. "Agriculture is such an important role in our community," says Varnum. "I always hope to help in whatever way I can."