Taco Time: Think Inside the Shell
by CAROL CORLEY
Let's say you don't have a lot of time but you want a meal that is healthy, tasty, and fun. Why not tacos? Pick a protein and add a bunch of vegetables. There is fiber in the vegetables and more in the whole wheat or corn shell.
As with nearly any dish, what you put in a taco and how you make it can determine whether it's truly a healthy option. Although tacos can be very healthy, a single taco can contain 1,500 calories (or more) if you use a deep-fried shell and add lots of fatty sauces.
Some people like simple tacos with classic fillings like steak or chicken, but it's possible to get creative. For example, you could add chocolate to a beef taco for a special flavor, as Escoffier School of Culinary Arts suggests. They also mention adding cooked eggs and salsa in a taco, or yellowtail and ceviche. And you can make a taco dessert.
Let's look at a few ideas.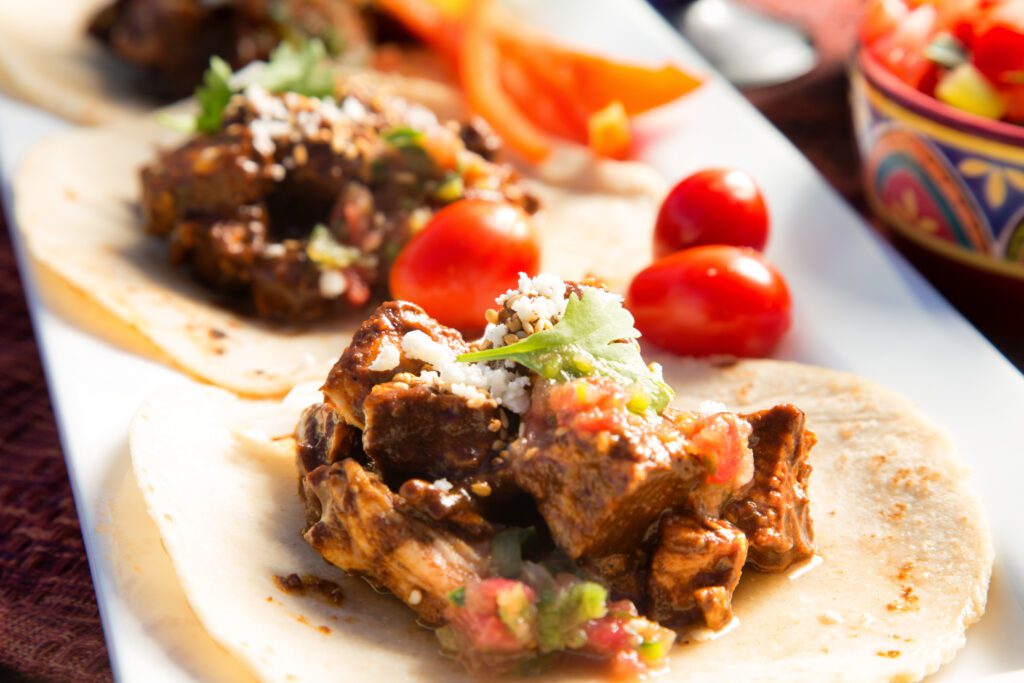 Beef Tacos with Chocolate and Chile
(Adapted from escoffier.edu)
Ingredients:
Beef, 1 pound ground lean
Chiles, 1 7-oz can green
Coconut oil, 1 tablespoon
Cocoa powder, 1-1/4 tablespoon unsweetened
Shallot, 1 minced
Garlic, 1 clove minced
Tomato paste, 1-1/4 tablespoon
Cumin, 1/2 tablespoon
Cinnamon, 1/2 teaspoon
Allspice, 1/4 teaspoon
Salt to taste
Taco shells or tortillas of choice
Directions:
Saute shallots in coconut oil in a preheated large skillet over medium-high heat for about 2-1/2 minutes, then add garlic and cook for about 20-30 seconds. Add ground beef, breaking it up, and cooking until browned, about 4-5 minutes. Then add chiles and tomato paste, stirring to combine. Finally, add cocoa and remaining spices and cook for another 1-2 minutes. Remove from heat and serve in taco shells or tortillas.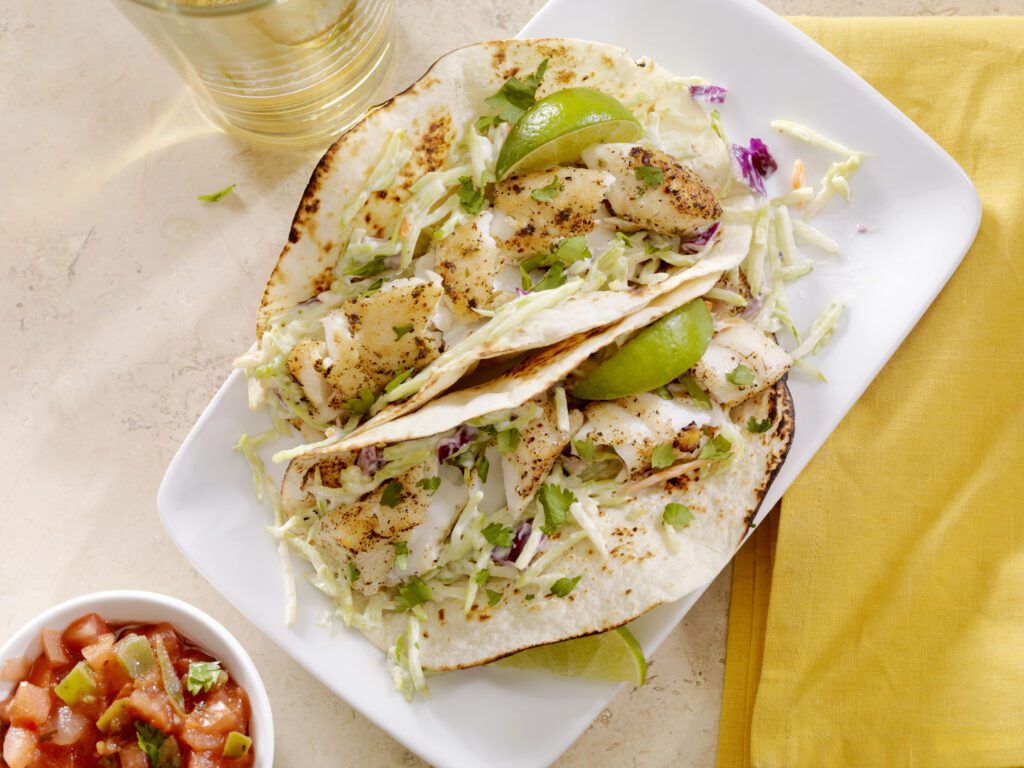 Baja Fish Tacos
(Adapted from foodnetwork.com)
Ingredients:
Halibut filet, 1-1/2 pounds skinless, cut into 2×1/2' pieces
Avocado, 1 Hass (dark green)
Cabbage, about 1-1/2 cups red, thinly sliced
Tortillas, 12 corn
3/4 cup flour, all-purpose
Chili powder, 1/3 teaspoon or to taste
Cilantro, chopped
Lime, juice of 1 plus wedges for serving
Honey, 2 tablespoons
Salt and pepper to taste
Mayonnaise, 1/2 cup
Salsa, 1/2 cup fresh
Vegetable oil of choice for frying
Directions:
Toss cabbage, cilantro, lime juice, honey and mayonnaise in a bowl, mix and add salt to taste. Warm tortillas in a microwave for 25 seconds, wrapped in a damp cloth. Wrap in a towel after to keep warm. Halve, pit, and slice the avocado and hold until needed.
While all that is resting, mix flour, chili powder, salt and pepper in a shallow bowl. Have 3 inches of vegetable oil of choice in a medium pot over medium-low heat. Dredge the fish pieces in the flour mixture, then once the oil in the pot reaches 375F, fry fish pieces in batches until just cooked, about 2-3 minutes each piece. Using a slotted spoon, take the fish pieces out of the pot and place them on a plate lined with paper towels to drain.
Finally, fill the still warm tortillas with fish, avocado, slaw and salsa and serve the lime wedges.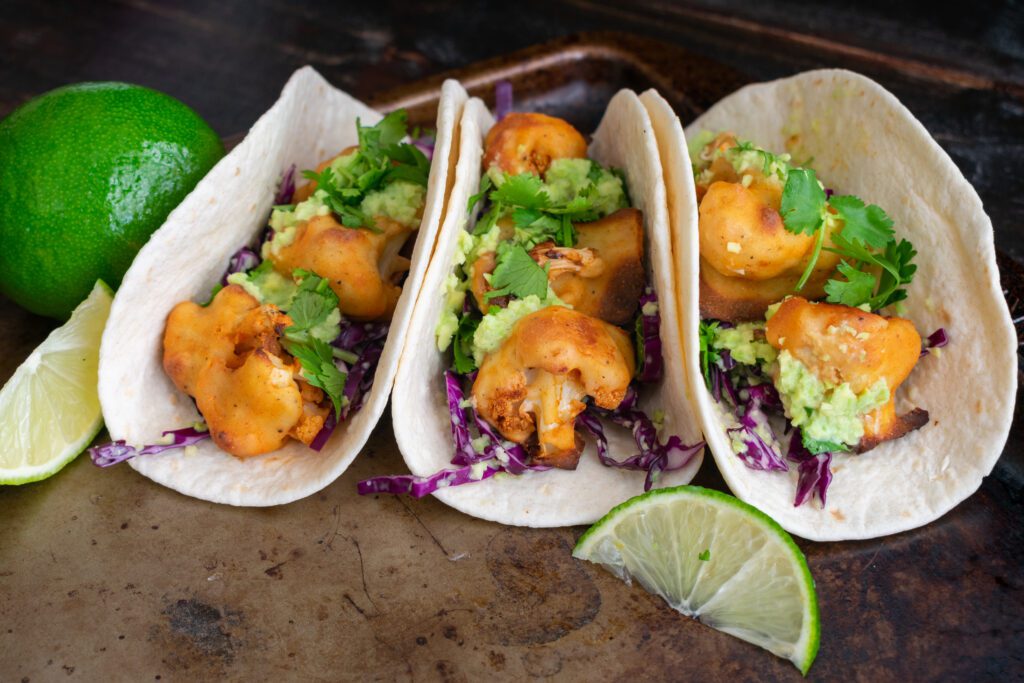 Air Fryer Cauliflower Tacos
(Adapted from delish,com)
Ingredients:
Slaw:
Red cabbage, 1 cup thinly sliced
Red onion, 1/1 medium, diced
Garlic, 1 clove minced
Apple cider vinegar, 2 tablespoons
Lime, juice of 1
Jalapeño, 1 or to taste
Salt to taste
Cauliflower:
Cauliflower, 1 medium head cut into bite-sized florets
Flour, 101/2 cup all purpose
Bread crumbs, 1-1/2 cup panko
Non-dairy milk like oat or almond, 1-1/2 cup
Chili powder, 12 tsp or to taste
Cumin, 1 teaspoon or to taste
Garlic powder, 1/2 teaspoon
Salt and pepper to taste
Cooking spray
Serving ingredients:
Corn tortillas
Sliced avocado
Vegan mayonnaise or as preferred
Maple syrup, 1-1/2 teaspoon
Sriracha, 2 tablespoons
Cilantro, freshly chopped
Lime wedges to garnish
Directions:
First prepare slaw, stirring to combine. Then gather serving ingredients and set aside. Separately, combine flour and spices, including salt and pepper, add non-dairy milk and stir until blended. Mixture should be thick. Place panko in a small bowl. Dip cauliflower florets into milk mixture then into panko crumbs.

Place prepared cauliflower florets, in batches, into the basket of the air fryer and spray with cooking spray. Cook at 400F for 15 minutes, and about halfway, stop, toss and spray with more cooking spray.

To assemble, top a tortilla with cooked cauliflower, avocado, slaw, cilantro, and a drizzle of serving ingredients. Serve with lime wedges.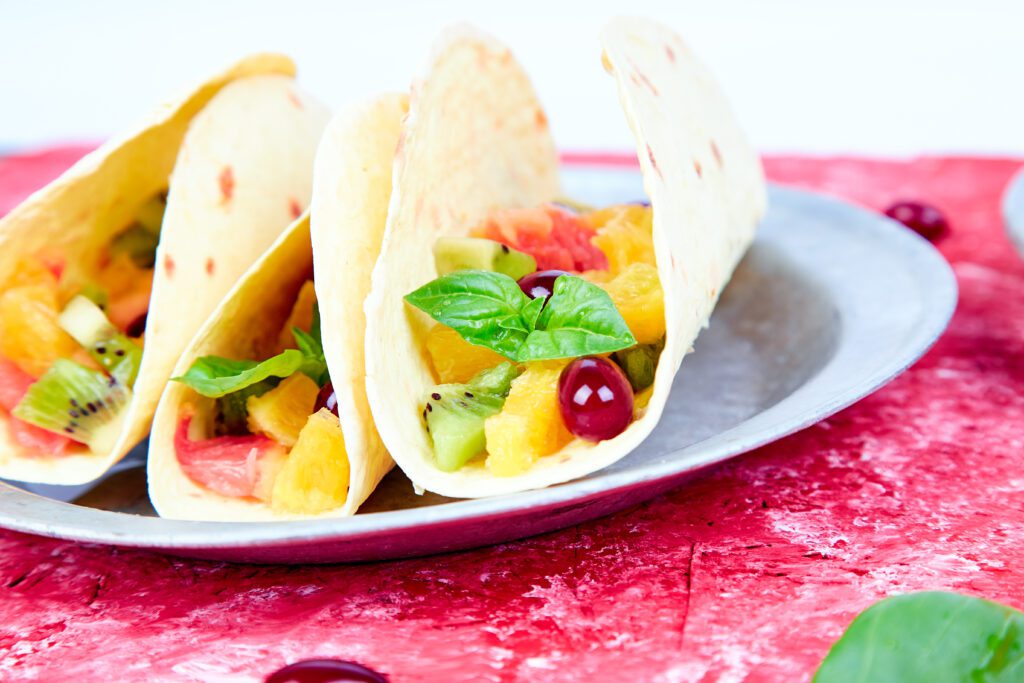 Fruity Dessert Tacos
(Adapted from Taste of Home)
Ingredients:
Pineapple, kiwifruit, strawberries, 1/2 cup each
Sugar, 3 teaspoons divided
Cinnamon, 1/2 teaspoon ground
Tortillas, 2 whole wheat, room temperature
Cooking spray, butter flavored
Directions:
In a frying pan, cook tortillas until golden brown, both sides coated with cooking spray. Remove from pan and dust with sugar mixture. Top with fruit, fold, and serve.