by RYAN MILEJCZAK
Florida lobster season is here, and that means it's time to enjoy that delicious seafood you just caught!
The Florida lobster, also known as a Caribbean spiny lobster, is actually different from the lobsters you might find in the tanks at Publix or your favorite seafood restaurant. In fact, the Florida lobster, scientific name Panulirus argus, isn't even that closely related to the common lobster. Thankfully, these little critters are just as delicious as their distant, more well-known cousins.
Preparing Florida lobster isn't much different than preparing other kinds of lobster. Cut it open, clean out the insides, and optionally remove the soft green tomalley. However, this is a matter of taste; many lobster conniesures swear that the tomalley should be left in for the best flavor.

Once you have your cut and cleaned Florida lobster, there are plenty of ways to prepare them. In fact, preparing Florida lobster is basically the same as preparing the better known Atlantic lobster. Let's look at just a few of the recipe options.
Grilled Florida Spiny Lobster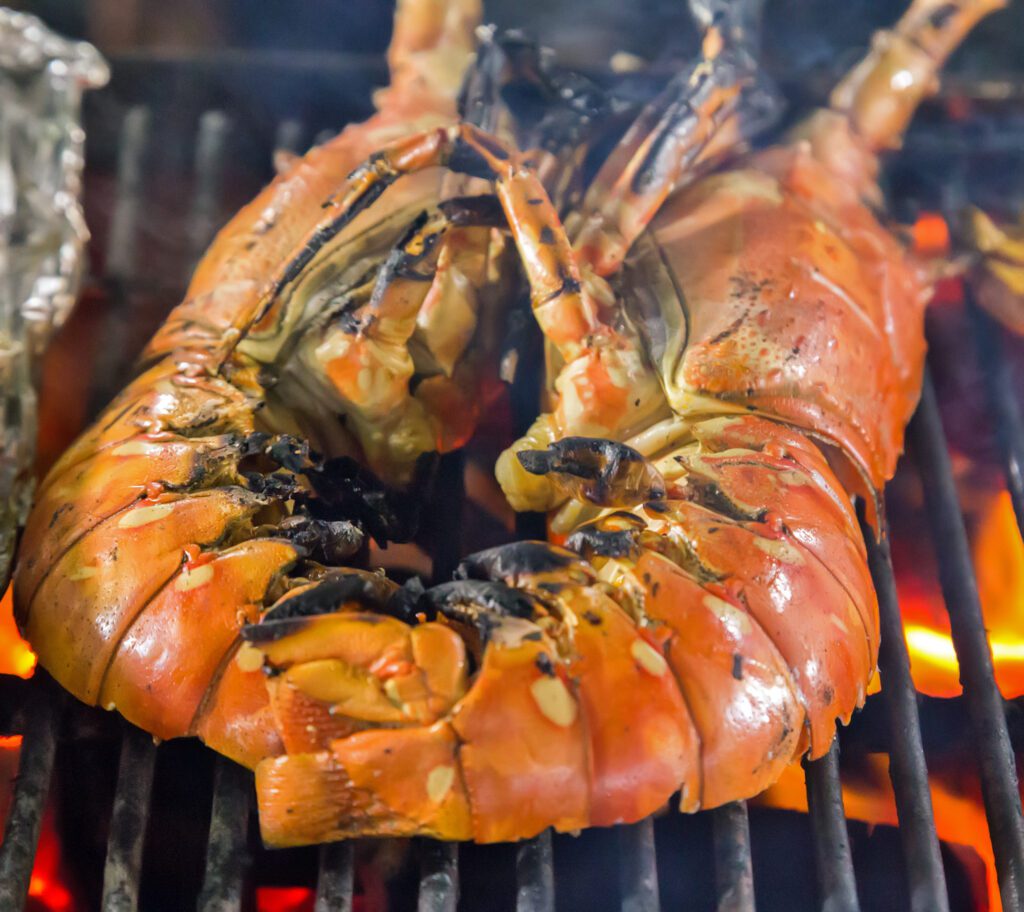 (Adapted from RealTree)

Ingredients:
4 Florida lobster
1 stick of unsalted butter
1 clove of garlic finely minced
1 large lemon
Directions:
First, melt the butter and combine it with the lemon juice, garlic, and a pinch of salt, then set aside. Cut the lobsters in half lengthwise and clean them (optionally preserving the tomalley).
Once the grill is heated, brush the lobster with your butter mixture and grill shell side down for 5-6 minutes. Then, flip the lobster over and grill meat side down for about 30 seconds. Remove from heat, baste with additional butter, and serve immediately.
Keep in mind this recipe is for two people, but it can be easily doubled for more. Generally speaking, two lobster tails per person is the recommended portion.
Florida Lobster Mac n' Cheese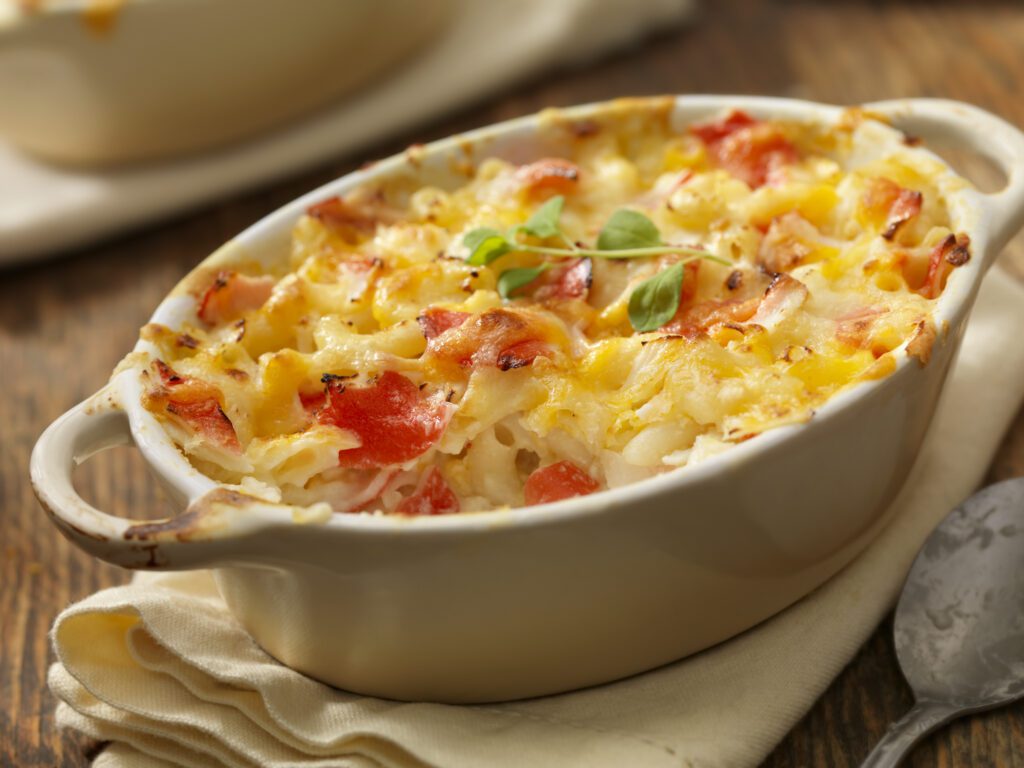 (Adapted from Into the Blue Fishing)
Ingredients:
1.5 pounds of Florida lobster
1 pound of elbow macaroni
1 quart whole milk
1 stick unsalted butter
½ cup all-purpose flour
12 oz (4 cups) gruyere
8 oz (2 cups) cheddar
1.5 cups breadcrumbs
Salt
Pepper
Garlic powder
Parsley
Directions:
First, prepare the lobster by broiling at 500 degrees for 8-10 minutes. Let cool then cut into bite-sized pieces and set aside. Next, boil the pasta in a large pot with a pinch of salt, then drain and set aside.
Next, warm milk in a small saucepan over low heat. In a separate large saucepan, melt the butter over low heat and whisk in the flour until it thickens. Continue stirring while you slowly incorporate the milk a cup at a time. Once fully incorporated, take off heat and add in the cheeses, 1 tbsp salt, ½ tsp pepper, and ½ tsp garlic powder. Mix thoroughly.
Finally, add the lobster and macaroni to the sauce and stir until fully incorporated. Pour this mixture into a casserole dish, top with breadcrumbs, and bake for 30-35 minutes at 375 degrees. Remove from the oven, let cool, and serve.
Florida Lobster Risotto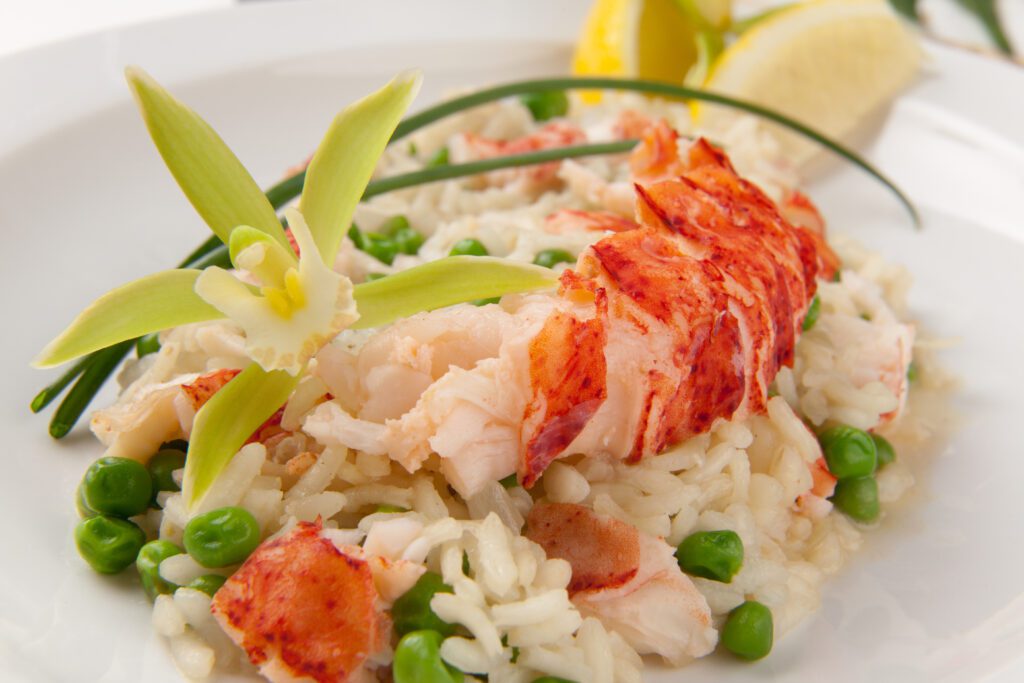 (Adapted from Food & Wine )
Ingredients:
3 cups clam juice
3 cups water
2 tbsp olive oil
1 finely chopped yellow onion
½ cup cubed carrot
½ cup cubed celery
1.5 cups Arborio rice
Pinch of saffron (optional)
½ cup dry white wine
1 lb cooked lobster meat
1 tsp salt
¼ tsp black pepper
3 oz grated parmesan cheese
Sliced chives for garnish
Directions:
First, cook lobster by broiling, or whatever method you prefer. Cut into bite-sized pieces and set aside. Next, mix clam juice and water and heat over medium-low for about 10 minutes, then reduce heat to keep warm.
Heat oil in a large saucepan over medium-high, then add vegetables and cook until softened, about 5 minutes. Now, add the rice and saffron to the pan, and stir constantly for about a minute to toast the rice. Next, add the wine and cook while stirring often until the wine is almost fully absorbed. Reduce heat to medium.
Now, add 1 cup of the clam juice and water mix and stir often until fully absorbed. Continue adding liquid a ½ cup at a time until the rice is creamy and al dente, about 15 to 20 minutes. Remove the rice from the heat and stir in the lobster, salt, pepper, and parmesan. If needed, stir in remaining liquid to loosen the risotto. Divide into 4 portions, garnish, and serve.