Lake Wales Creating Grove Community Garden to Harvest Food, Fellowship
by PAUL CATALA
When Dorothy Scott Wilson was growing up in northwest Lake Wales, folks would buy their fruits and vegetables at a small business corridor that included Wade's Grocery Store. As corporate chain supermarkets came in during the 1950s and 1960s, stores like Wade's closed, leaving what Wilson calls a "food desert."
That desert, however, is now sprouting new life through the 5-month-old Grove Community Garden, where fruits and vegetables are being planted and a new source of community is being harvested.
In April, a groundbreaking was held for the Grove Community Garden at the James P. Austin Community Center. The new garden is named in recognition of the surrounding Grove Manor neighborhood, a Lake Wales Public Housing Authority community, and will primarily serve residents living in the northwest section of the city.
According to the City of Lake Wales, initiatives like community gardens and food pantries, transportation accessibility, and nutritional education help parents and others with limited financial resources make healthier meal choices.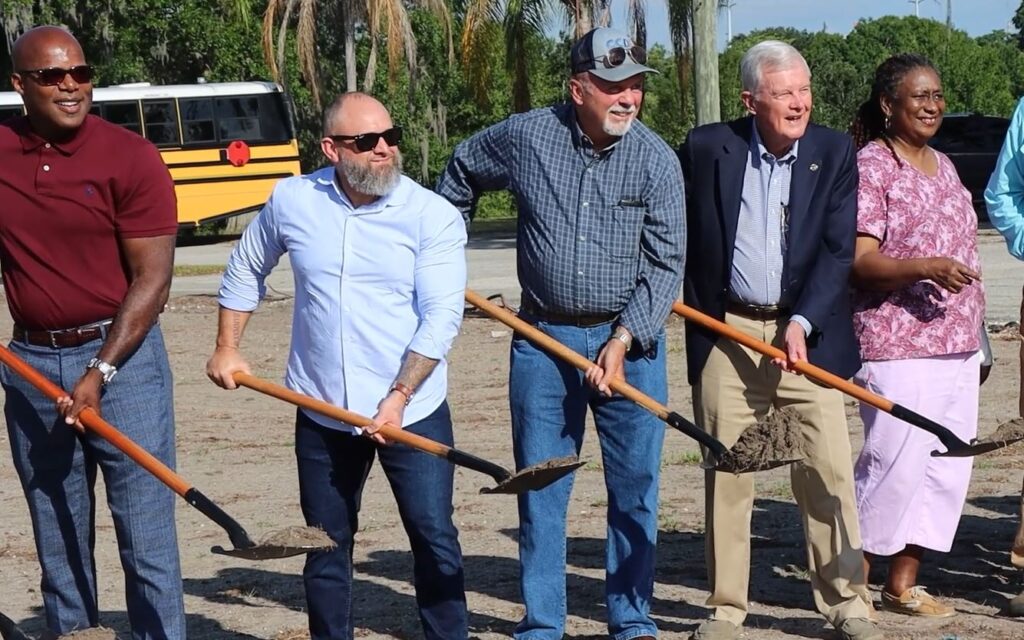 Wison is currently the program manager in charge of community engagement for the garden and says the process is in place to get workers and production people to get the garden started. She says there are 39 people involved and 11 charter members of the new "Friends of the Garden Grove" group working to get the garden established.
So far, pollinator plants supplied by the Florida Department of Health-Polk County, which funded the garden, have been received and are ready for planting. Among what's expected to be eventually grown and harvested will be tomatoes, hot peppers, collard greens, cabbage, onions and other "essential items," as well as six donated citrus trees.
A community garden service day is planned for Sept. 9 from 8 to 10 a.m. at the Austin Center. The Boys & Girls Clubs of Polk County-South Ridge Unit donated tires that will be painted by club members and then set up around the garden.
Wilson says the Grove Community Garden will benefit not only the neighbors and neighborhood but will help enhance the city as a whole. Wilson says there are no other grocery stores or supermarkets within a mile and a half of the neighborhood.
"This little plot of land the city has designated is going to get bigger," she says. "It's bringing this community together so much. This is a revitalization project. What it is doing is teaching the people of Lake Wales how to go back to basics and grow their own food."
In the spring of 2022, a local health and social service provider task force chose the northwest neighborhood of Lake Wales after learning that area data showed higher rates of food insecurity, chronic disease, behavioral health concerns, and other health risks.
The residents of the Grove Manor area chose to initiate a garden to serve the neighborhood as a possible solution once it officially opens in October.
According to the City of Lake Wales, the Grove Community Garden will be "for the community and by the community."
In addition to the availability of growing fresh fruits and vegetables, another benefit of the Grove Community Garden will be its social components.
Cheryl Baksh, Lake Wales Community Redevelopment Agency coordinator, says similar community gardens nationwide have become gathering spots for neighbors to meet and establish friendships. There, community members can chat about their gardening experiences, trade gardening tips, show their children where their food comes from, and teach them about maintaining healthy and diverse diets.
Baksh, who's been on the CRA since 2019, says she hopes the Grove Community Garden will be used to foster healthy activities in the area, particularly for the many senior residents living there. She said a partnership with the B Street Community Service Center in that area is being formed so items grown in the community garden can be dispersed into area homes.
"We're hoping the seniors who live in the northwest community will come out. A lot of the seniors walk around without much to do, so this will give them something to do and become proud and active in the community," she says.
Baksh attended the April 14 groundbreaking, along with Lake Wales Mayor Jack Hilligoss, City Commission members, and representatives from local social service groups.
She says she thinks the garden will provide nutrition education and better food options for the immediate neighborhood while benefiting the city as a whole as it becomes a "destination" for community interactions.
"Right now, we live in a time where everything is fast-paced and expensive, so sometimes it's cheaper or more convenient to go to a fast-food place. But we're hoping the community garden walking distance or a short bus trip will encourage people to eat healthier, get out, exercise, stretch a little, and enjoy the outdoor atmosphere," she says.
Additionally, Baksh says a partnership with nearby Roosevelt Academy — an Exceptional Student Education vocational school for students with learning disabilities in grades 6 to 12 – has been established. The students are building picnic benches and tables for the garden with the help of agriculture teacher and FFA advisor Ray Cruze.