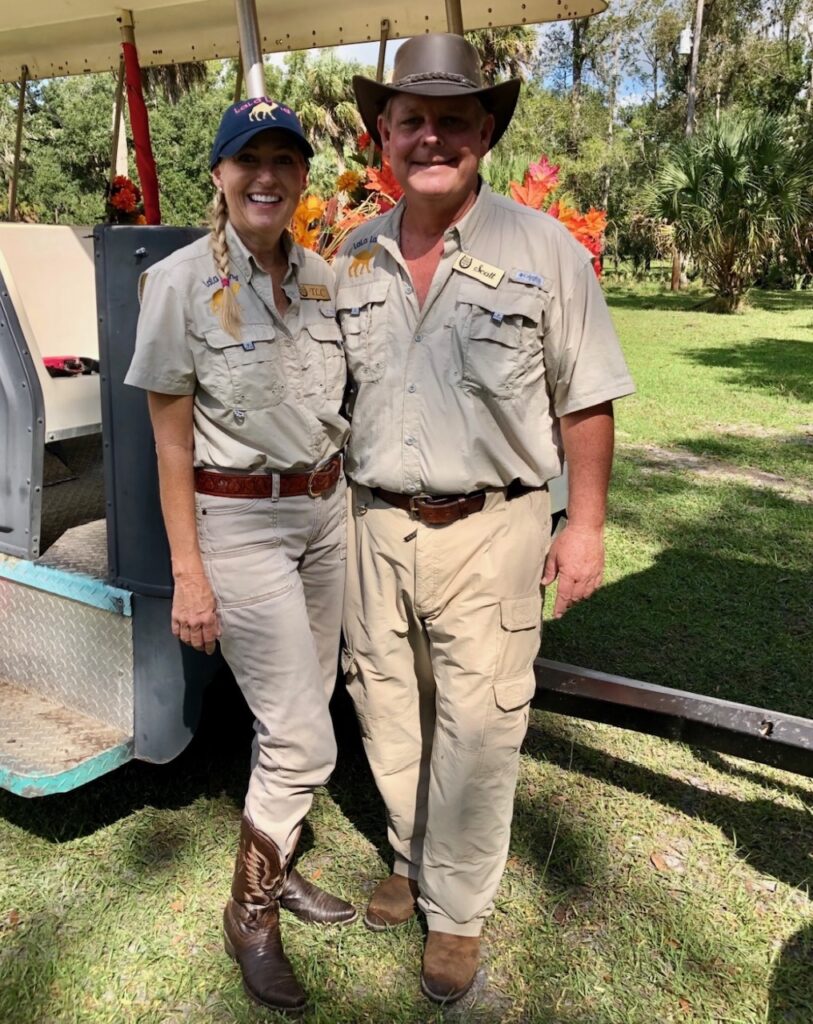 by PAUL CATALA
photos provided by LALA LAND
It all started with a box and a piglet. That small, secured swine eventually led to a 45-acre exotic animal farm and education facility in Sebring now known as LaLa Land.
LaLa Land is co-located with TLC Therapy Hooves off Payne Road on a 45-acre farm and ranch owned by Terri and Scott Crutchfield. Licensed by the Florida Fish & Wildlife Conservation Commission and the United States Department of Agriculture, it's a registered and insured Florida agritourism facility that educates the public about Florida agriculture and the care and conservation of various exotic animal species.
TLC Therapy Hooves is a nonprofit organization that provides educational farm tours for senior citizens, people with disabilities, and veterans groups.
In 2008, Terri Crutchfield went to a local feed store with her daughter, Taylor, and her FFA rooster. Another customer had a shoebox at the counter, and inside was an orphaned piglet needing adoption. Crutchfield stepped up and adopted "Precious Piglet," taking it with her everywhere around town until the pair became known as "Miss Piggy" and "Precious Piglet."
That encounter inspired Scott and Terri to head out to the country, buy a farm, and eventually open LaLa Land.
"That was the first animal that started all of this," says Terri Crutchfield, 57.
Since that day 14 years ago, LaLa Land has continued to support and show exotic animals and share educational experiences to an estimated 100 visitors per month.
Crutchfield, a West Palm Beach native raised in Sebring, says their mission is to foster an appreciation of and love for exotic and therapy animals through complementary therapy visits and fee-based private tours.
All proceeds from the LaLa Land private agritourism tours go to TLC Therapy Hooves.
Crutchfield says the LaLa Land tours offer guests the chance to see and interact with some of the animals, including miniature horses, a Continental Giant rabbit, camels, llamas, and joeys among other animals. Guests can also venture through oak hammocks, near a bay head, through Florida grassland pastures, and beside two fish ponds.
Crutchfield, a Professional Fellow in the Zoological Association of America, works with sanctuaries and zoos to promote research, education, breeding, and training of exotic animals for conservation and preservation. Her compassion for animals partly developed from her father, John Thomas, a retired FWC chief pilot, and her mother, Ann Hamilton, a LaLa Land volunteer who spent eight years in Africa on conservation trips.
"I have a really deep respect for nature," she says. "What my parents instilled in me is that animals are here and should be appreciated and respected. Any time you need to get back to something, like you feel like you're straying, put yourself back in nature."
LaLa Land evolved from TLC, which the Crutchfields began in 2011. At first, animals weren't available for public viewing.
"We always allowed certain groups to come out back then, but we didn't put it out there for everyone to know. It has been over the last five years that the news that LaLa Land was a hidden gem came out," she says.
That exposure has led Terri, Scott, and Taylor to build and promote LaLa Land's mission. That includes utilizing forays onto the property and among the animals as nature therapy, something Terri herself tried after her open-heart surgery in 2019 and at the onset of the coronavirus pandemic.
"We need family, and we need getting ourselves out in nature and taking time to enjoy that," she says. "The one positive thing on the other side of (the pandemic) and looking back is spending that quality time together; you need to be available for what your passions are," she says.
Most of the domestic animals at Lala Land have been adopted from homes that could no longer properly care for them.
The exotics at LaLa Land were personally owned or come from other zoos or licensed animal facilities and are all permitted. At LaLa Land, they fall under the care of veterinarian Jacob Hinds of Citrus Animal Clinic in Lake Placid.
Each day from about 5:30 a.m. to 8 p.m., volunteers, staff, and the Crutchfields care for the animals. Most of that care comes out of the Crutchfields' pockets, donations, and nonprofit grants.
There are also private LaLa Land visits for a $35 donation per person, with a minimum of eight people.
"TLC and LaLa Land came about because the community knew about animals and wanted to see them. This kind of blossomed by itself," says Crutchfield. "The road was paved in front of us and this is what we walked. We just follow the path that we're supposed to follow."
A typical tour is led by Crutchfield or a facility manager and includes a tram ride from habitat to habitat, a Q&A session, pictures, and interaction with some of the animals, such as Tuda the Tortoise, who was rescued and nursed back to health after was found on a road in Avon Park.
"Most of these animals here have a story. Here, they've made it to a soft-landing spot," she says.
LaLa Land opens in mid-September and remains open through the beginning of May. For information, call TLC Therapy Hooves at 863-471-7045 or go to facebook.com/lalalandsebringfl