Three Recent Graduates Receive Will Putnam Young Farmer and Rancher Scholarship
by K. MICHELE TRICE
Three recent high school graduates were recognized by the Polk County Farm Bureau as recipients of the Will Putnam Young Farmer and Rancher Scholarship.
This year's winners include: Samantha Shaffer, Gabriel Chandley, and Kaylee Tomon.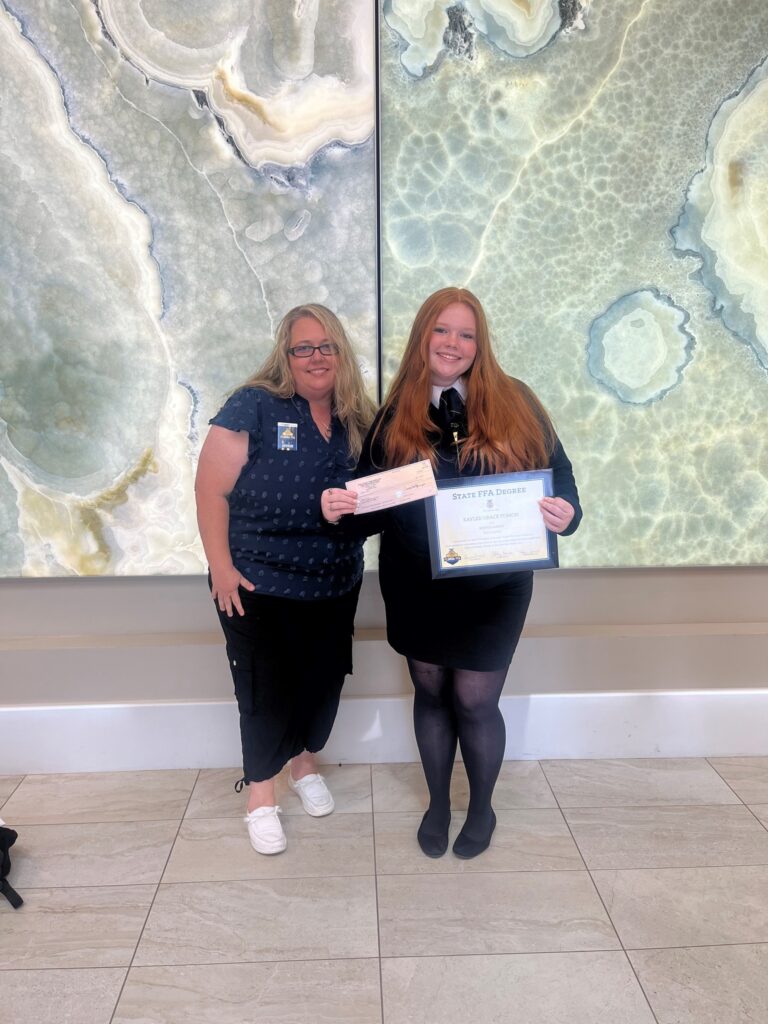 The Will Putnam Young Farmer and Rancher Scholarship is given annually by the Polk County Farm Bureau to a recent Polk County high school graduate who plans to pursue a career in agriculture.
SAMANTHA SHAFFER
Shaffer, a graduate of Lakeland High School, who won first place in the scholarship contest, became active in agriculture and FFA thanks to Nicole Collins, a Lakeland High School teacher and the FFA Advisor.
Upon receiving the $500 scholarship, Shaffer says, "I'm really appreciative and excited." She plans to attend the vet tech program at Hillsborough Community College.
"I want to pursue vet tech because I love the animals and want to be hands-on and interactive with them."
Shaffer spoke of agriculture in her scholarship application, writing, "Agriculture is all around; the food we eat, the clothes we wear, the technology we use. Agriculture has led to innovations, advancements, and influences the Earth's environment, as well as my own."
"If we don't understand how things are done or what gets done around the world, we won't be able to maintain or keep up with it," she says. "We are the future."
Lakeland High teacher Amelia Hart says Shaffer won an award for Most Outstanding Student in Veterinary.
"She has impressed me with her hard work and love for animals," Hart says.
She goes on to compliment Shaffer on her FFA experience, as Shaffer has served as the president of the LHS FFA program and was successful with a number of fundraisers on behalf of the organization.
"I have had the pleasure of watching Samantha grow into the amazing student and leader she is today," says Collins, the LSH FFA advisor. "Samantha has always advocated for our program and agriculture to anyone who comes into contact with."
GABRIEL CHANDLEY
Chandley, a graduate of Lake Wales High School, received the second-place scholarship of $250. He plans to attend the University of Florida in the fall and study ag communications.
"I'd like to be an advocate for local beef and to spread the message to eat more beef and get more involved in agriculture," he says.
Chandley comes from a ranching background, with cattle ranching on both sides of his family tree. "Agriculture is important because there are so many people moving to our state every day. Agriculture is one of the biggest impacts on conserving Old Florida, of keeping our traditions going."
Of the scholarship, Chandley says, "It is a great honor, especially in Polk County, to receive this award. My sister received it a few years ago, and it is a great honor to be able to say I won it."
Chandley participated in 4-H throughout his undergraduate educational career. He has shown cattle at the Polk County Youth Fair and won Grand Champion Polk-Bred Steer and Showmanship at the Fair.
"The experience of raising cattle has taught me about their nutrition and health, record keeping, and marketing," he says. "I have spoken on behalf of my family to the Rural and Family Lands Protection Program and have volunteered for Conservation Florida, so I know that saving our state's ecosystems is crucial for all Floridians."
"God only gives us one Earth, and we have to take care of it while we have it," he says.
KAYLEE TOMON
Tomon, a graduate of Winter Haven High School and recipient of the third-place $150 scholarship, wants to become a large-animal veterinarian. She has been involved in FFA since sixth grade, and she recently received her Florida FFA degree. She is pursuing the American degree now.
"This is a big honor," Tomon says. "It shows I've worked hard in agriculture in my hometown and it makes me proud of what I've done."
"Where I go to school, even though Polk is a big agricultural place, I think if others like myself understood the cattle production, the food you're getting, they could see that agriculture is everywhere. If others knew that, they could see more possibilities."
"Kaylee has been an active participant in FFA and served as president or vice president the last three years," says Nikki Jordan, Winter Haven High School Assistant Principal and Director of Program Cambridge.
Jordan continues, "Kaylee is considered one of the most outstanding students at Winter Haven High School due to the combination of her academic and extracurricular achievements as well as her positive attitude and determined perseverance."