The Spirit of Service in Two 4-H Volunteers
Earlier this year, Polk County 4-H recognized two exemplary young volunteers in our community: Erica Curtis and Grace Colston. Both of these young students turned teachers were honored as recipients of the Prudential Spirit of Community award. Their honorable volunteer work and extraordinary display of leadership made them excellent candidates for this community service based award, which honors students through grades five through 12.[emember_protected custom_msg="Click here and register now to read the rest of the article!"]
Erica Curtis (second to left) with some of the Youth Livestock Exhibitors at the Florida State Fair
Curtis, 17, has provided service to Polk County through the Lake Wales Clovers on the Ridge 4-H club for eight years. She is a homeschooled student who serves as her 4-H club's rabbit project leader. Her interest in rabbits developed when her parents allowed her to take home a fluffy Holland Lop rabbit, which then motivated her to learn everything about rabbit care and showmanship. Applying her knowledge, Curtis earned several ribbons and trophies at local fairs. Her success at these shows is what motivated her to become a rabbit project leader. Her club did not have a project leader at the time, and she wanted to help others learn as she did, and possibly win awards for their rabbits too. Now she teaches classes, which provides the students with information about rabbit care, rabbit health, and showmanship. She is also responsible for organizing and coordinating the first ever rabbit showmanship competition at the Polk County Youth Fair. Through her various roles in 4-H leadership, she has learned responsibility, developed excellent communication and interpersonal skills, and even become a teacher to youth in 4-H. Her favorite part of volunteer work is teaching younger people. "I love it when I can see the youth learning and having fun at the same time," Curtis explains.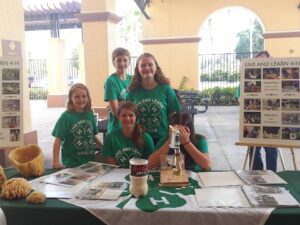 Grace Colston (center) and some of her fellow club members at the Tigers Game 4-H booth.
Colston is a homeschooled student as well, and has provided six years of service to Polk County through Live and Learn 4-H club of Auburndale. Colston and her club frequently visit the Auburndale Oaks nursing home, participate in relay for life, and assist with childcare at a local church. Besides helping with childcare at her church, she also works in the café a few early mornings each month. With the help of her sisters and her Relay for Life team, they raised over $2100 to help support research for cancer patients. Colston and her club also go once a month to Auburndale Oaks to sing to the patients and give them homemade crafts or cards. Also, she cleans the Auburndale Trail once a month and although it is hard work, it has helped her learn more about the environment. Her favorite memory of volunteer work was during a visit to Auburndale Oaks, when she sang "Mambo Italiano" to a man named Willie; her grandfather also visits this nursing home frequently and heard the residents discussing how they hoped their club would come back and sing again soon. "They are very happy about the things we do," Colston adds, "and bringing them joy is my goal at the nursing home." She's motivated by her passion to help our community, and, at 14 years old, she doesn't plan to stop volunteering any time soon. Colston encourages other young people to "go ahead and volunteer! It's a worthwhile experience. People are surprised to know that 4-H is not solely about horticulture and agriculture, but also community service skills for the future."
Congratulations to both young ladies for their achievements and dedication to their communities!
CREDITS
story by JULIE GMITTER
[/emember_protected]