The Power of Healing in Therapeutic Riding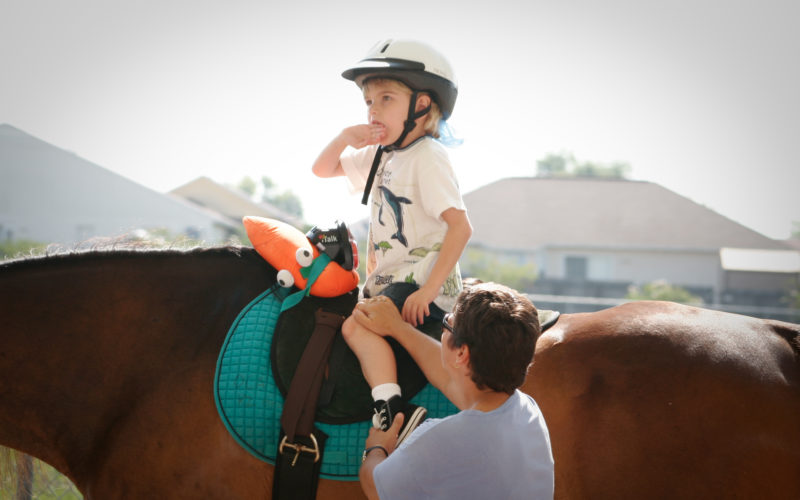 The gentle nature of the horse has made it a much sought-after creature for therapy, especially among children.  The movement of the horse has addressed many physical disabilities, giving experts a special interest in these animals.  Heike Reeves, a physical therapist at Our Children's Academy in Lake Wales, explains, "A horse has the same rhythm and walk of a human, and when a person is sitting [on a horse], the rider takes on the movement of the equine.  With repetition and time, the horse's movement will imprint to the person, which will improve posture, balance and strength – they'll be able to move better."
The concept is known as therapeutic riding: using horses to improve disabilities ranging from paralysis to muscle diseases.  Comparatively, Hippo-therapy is a similar technique, which focuses on the movement of the horse to primarily treat physical ailments, and requires a therapist. Therapeutic riding uses the horse to address many more needs of patients, including mental and emotional issues, in addition to afflictions of the body.
Both of these methods are a cornerstone of Our Children's Academy, a special education elementary school in Lake Wales.  The ultimate goal of the academy is to rehabilitate kids in order to move them to the public school system, and therapeutic riding goes a long way in helping the children improve.  "We are just like a regular public school – the difference is that we mix an educational model with a medical model, so we have speech, occupational and physical therapists in the classroom," says Ellynne Draper, a therapeutic riding instructor at the academy.
Draper is no stranger to special education, therapeutic riding, or to horses for that matter.  A therapeutic riding instructor for nine years, she has spent the past four and a half at the academy, and donates her own horses to the riding program.  She taught middle school special education for 10 years, and worked on the therapeutic riding program for a local Lake Wales veterinarian.  It was through the vet that the principal of the academy, Sharon McManus, offered Draper an opportunity to help start the program at the academy.  After visiting the school, Draper "fell in love with the kids," and has remained a part of the program ever since.
This special instruction is given on Tuesdays and Thursdays, rotating the school's 45 students into one of the classes each week.  The children must meet the minimum age requirement of 2, have a signed parent's form, and a doctor's release before riding, as not all of the students are eligible to participate.  Some disabilities are contra-indicated or too dangerous to be treated through riding classes, like brittle bones, which could easily be broken by a fall.
To ensure the safety of each child, the student never rides alone. Three volunteers are assigned to each horse, addressing the needs of both the rider and the animal.  One serves as a lead, directing the horse around the ring, or corral, while the other two walk on either side.  And they never use saddles.  They ride bareback, as saddles limit the movement a child would feel while astride the steed.
Due to the delicate nature of this process, it is essential to select the appropriate horse.  At the academy, two quarter horses have been trusted specifically for the program: a gelding of 24 years named Boat, and a 19-year-old named Grunt.  Boat has served as a therapeutic riding horse for 12 years, while Grunt, a police horse, came into therapeutic riding after serving on the Polk County search and rescue team.
The horses have to be trained before the children can ride them.  Draper points out, "Horses are prey animals, so their natural instinct is to run away.  The tricky part is to show them to trust someone.  You have to teach them to inhibit that 'get me out of here' mode."  How each horse responds to people is different, but those used for therapeutic riding tend to be more sensitive and accepting of people, especially children.  Even the most considerate horse, however, still needs desensitization: an on-going process that involves repetition of experiences they may encounter around children.  "When I ride them," continues Draper, "I screech, wiggle, bump, turn around, pull their mane and tail, and pretend to fall to get them used to some of the things the kids might do.  Horses are kind of like people, they either like kids, or they don't.  Fortunately, Grunt and Boat both really enjoy being around kids, so it didn't take too much effort."
Another highly important element of this approach is the gait, or the speed of the horse's movement.  Adjusting the horse's speed helps rejuvenate myriad muscles in the legs and abdomen, and though the horse seldom moves faster than a canter, the walking speeds are enough for rehabilitation.  Draper explains,  "Mostly, people think about using their leg muscles when riding a horse, but as any good horseman will tell you, most of your control is in your trunk.  By stopping, starting, weaving, changing speeds, and turning in specific directions, we can directly impact which muscles the child is activating to maintain their balance."
There are also a variety of activities and exercises the students learn while on horseback.  Tools used include balls, rings, hair clops, puppets, magnetic letters, brushes, beanbags and hula-hoops.  They function through a variety of activities designed to address particular issues, including flashcards used by the speech therapist to encourage the child to focus.  Reeves elaborates, "We usually start with the horse standing still, and the goal is for them to handle doing the activity while in motion, and we can also add the challenge of having the horse weave in and out or come to a halt or a half halt, which requires the child to activate the trunk muscles to maintain balance."
The benefits of therapeutic riding are remarkable.  Draper discloses, "Doctors say the earlier you provide therapeutic instruction, the better the outcome.  A lot of our preschoolers will go on to public school kindergarten."  Both Reeves and Draper have seen dramatic improvements in the students, especially those with neurological disorders, like cerebral palsy and autism.  Reeves acknowledges, "The autistic kids will be a in a world of their own, and when you put them on a horse, you'll engage them.  They will talk to the horse.  It is a lot of work, but the results are tremendous.  There is nothing like the bond between animal and child to unlock the mind and body's power of healing."
CREDITS
story by EVERETT BRAZIL, III