Uses for the Sweet Fruit Go Far Beyond the Dessert Tray
by CAROL CORLEY
We can all picture that cute toddler taking a big bite from a watermelon slice twice her size. Even babies can be given small cubes of the sweet watery treat that is tasty as well as healthy and hydrating.
In fact, watermelon is known for Vitamin C, lycopene, and beta-carotene, which support our immune systems. Healthline says lycopene can help ward off some cancers.The calorie cost for the fruit is just 46 calories per cup.
No one can doubt that the chilled, watery summer fruit is a perfect snack for this time of year. But it can also be part of a meal, from salads to entrees to desserts.
We will start with a drink inspired by Middle Eastern and Southeast Asian drinks, including lassi and ayran.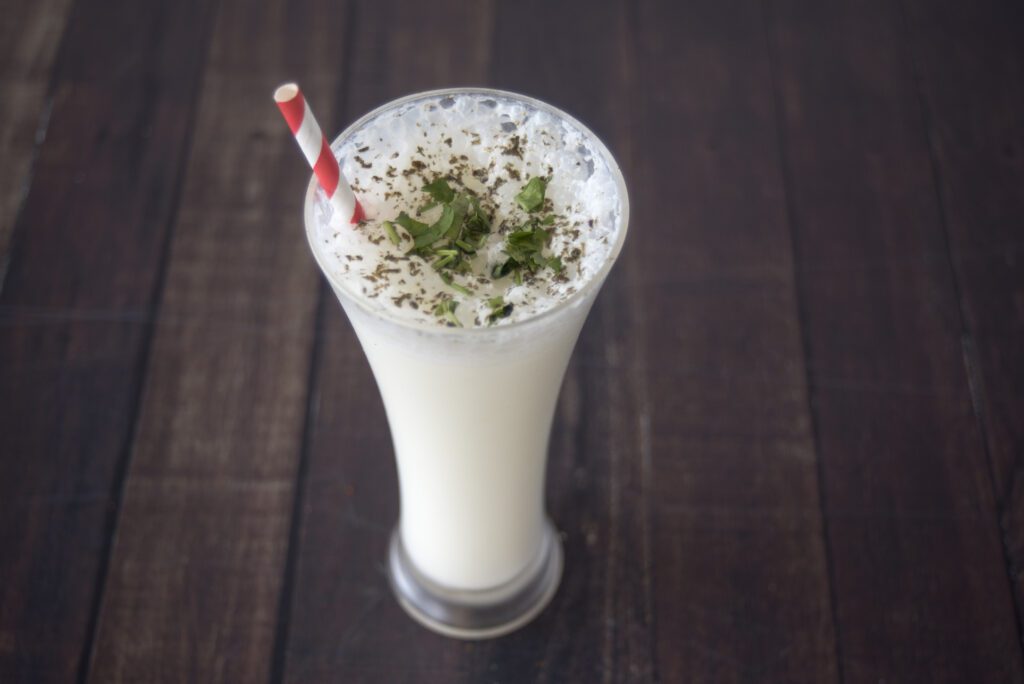 Watermelon, Lime and White Pepper Drink
(Adapted from epicurious.com)
Ingredients:
Watermelon flesh, 1-1/2 cups cut into 1-inch cubes
Yogurt, 1/2 cup plain
Lime juice, 1/4 cup fresh
Honey, 2-1/2 tablespoons
White pepper, 1/8 teaspoon or to taste
Soda water, 1 cup chilled
Ice cubes, 1 cup or more as needed
Salt, pinch
Directions:
Place all in a blender, blend until well-combined, and serve immediately.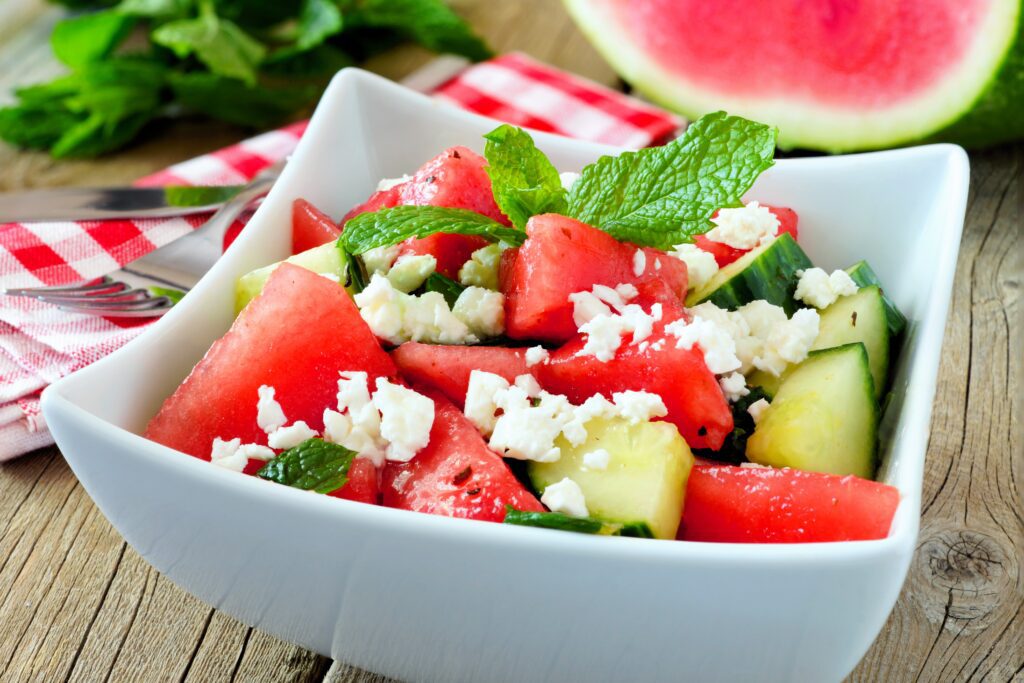 Watermelon Feta Salad
(Adapted from delish.com)
Ingredients:
Watermelon , 3 cups seedless, cubed
Cucumber, 1 cup chopped
Feta cheese, 1 cup crumbled
Onion, red preferred, 1/2 cup thinly sliced
Olive oil of choice, 1/4 cup
Salt to taste and more to garnish
Red wine vinegar, 2 tablespoons
Mint leaves, 2/3 cup coarsely chopped plus twigs for garnish
Directions:
Combine watermelon, cucumber, feta, onion and chopped mint in one bowl, in another whisk together olive oil, vinegar and salt. Mix together, place in a serving bowl, and top with mint garnish and salt, if desired.
Frozen Sprouted Watermelon Seed Bites
(Adapted from watermelon.org)
Ingredients:
Watermelon seeds, 1.5 cups
Watermelon meat, 1 cup fresh, chopped
Dates, 1 cup pitted, halved, and soaked in purified water 1-2 hours
Beets, 1/4 cup roughly chopped
Coconut butter, 1 tablespoon
Directions:
Place dates in the food processor after removing from water (discard water) and pulse a few times, then add 1 cup of watermelon seeds, chopped watermelon meat, beets, and coconut butter. Blend until well combined. Now add the rest of the watermelon seeds and pulse briefly so that they remain chunky. Cool mixture in refrigerator for at least half an hour. Finally, remove from the fridge and with damp fingers roll into tablespoon-sized balls and place on a plate. Sprinkle a few watermelon seeds on top and freeze for about 3 hours until well frozen.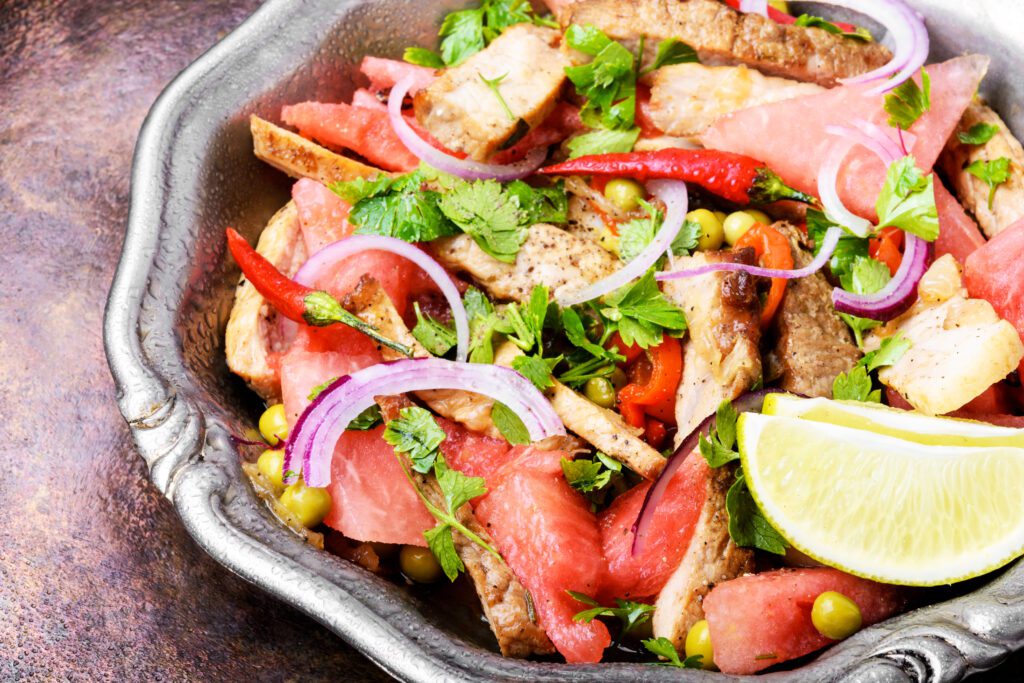 Grilled Steak and Watermelon Salad
(Adapted from beefitswhatsfordinner,.com)
Ingredients:
Steaks, 4 beef tenderloin about 6 oz each
Watermelon, 2 slices seedless, about 1-inch thick each
Feta or shredded cheese of choice, 1/4 cup
Onion, red, 1/2 cup thinly sliced
Cherry tomatoes, 1 cup halved
Coriander and cumin, combined and ground, 1 teaspoon each
Balsamic dressing, 1/4 cup
Baby spinach leaves, 8 cups
Salt and pepper to taste
Directions:
Press combined cumin and coriander evenly onto steaks and grill over ash-covered coals. Place watermelon slices around steaks. Grill steaks over medium heat to preferred degree of doneness, turning occasionally. About 11-15 minutes for medium-rare. Carve steaks into slices and watermelon into wedges. Arrange baby spinach leaves onto a plate and drizzle with dressing, then arrange beef, watermelon and tomatoes on top. Sprinkle it with salt and pepper to taste, then with onion and cheese.