Trail Riding Through History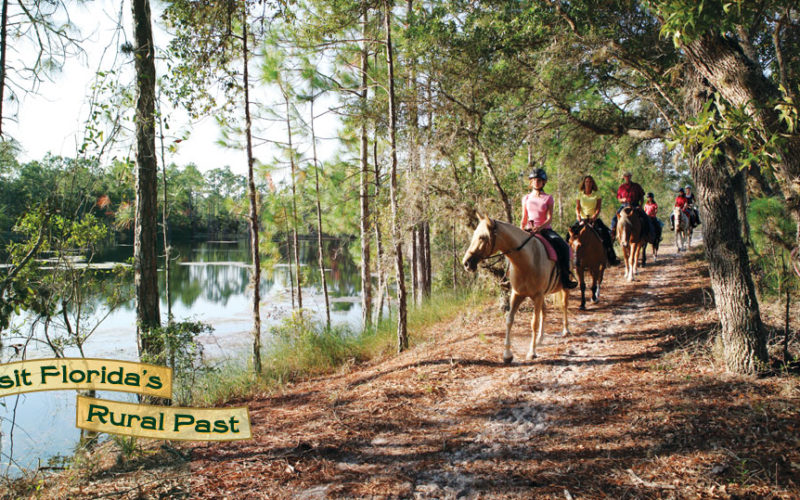 A Unique Horse Riding Experience at the Florida Agricultural Museum
It's prime riding season, and horseback riders looking for a unique experience can ride the trails at the Florida Agricultural Museum near St. Augustine. There Barn Manager Cheryl Carl offers guided trail riding with a small team of horses, one of them a 12-year-old Florida Cracker Horse named Supressa.[emember_protected custom_msg="Click here and register now to read the rest of the article!"]
Part of a rare breed brought to Florida in the 1500s with Ponce de Leon, Supressa is a descendant of the Spanish Iberian horses instrumental in early Florida agriculture. The breed is small and finely built, sure footed and hardy, making it especially suited for children riders.
"She's a little diva. There's certain horses she doesn't like," Carl says of Supressa. "She's a mare." Although Supressa is one of the featured horses on the museum tours, all the extra attention hasn't seemed to spoil her. "She's a hard worker. It's not gone to her head," she elaborates.
The cool fall weather is ideal for rides. Beautiful blue skies, with virtually no insects, are part of the appeal. The prime season runs through the end of June, when temperatures begin to climb. "When it's muggy, it's hard for everybody," Carl observes. "It's a lot easier [now] on the horses too. They like this kind of weather."
Florida Agricultural Museum is located at Palm Coast, about a 25-minute drive from downtown St. Augustine. They have 460 acres with sandy trails in a prairie-type setting. Riders can cross over land bridges— one of them above Interstate 95. There is also riding at the nearby Princess Place Preserve.
Guided trail rides are available by appointment seven days a week. Riders must have the cognitive abilities of an eight year old and be physically fit to ride. The rides cost $50 per hour, per rider with a two-rider minimum; skill levels range from novice to advanced.
Carl suggests making an appointment at least a day or two in advance. "I won't mix a group. I won't put you and your family with strangers," she adds.
On tours, Carl can take riders by historic buildings at the museum. Unlike other riding facilities, their goal is to be a museum. The rides were added to raise extra funds for the facility's upkeep.
In addition to guided rides, the museum offers Western and English riding lessons, plus special needs riding and summer riding camps.
CREDITS
column by CHERYL ROGERS [/emember_protected]