Walking in an AgriWonderland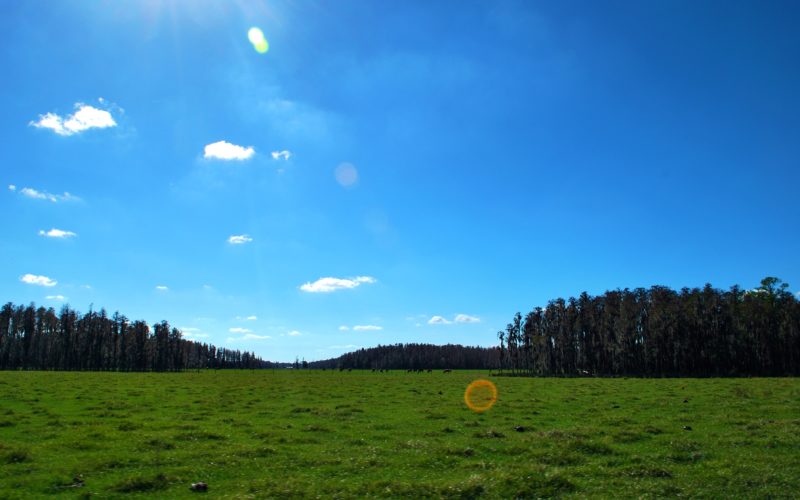 Florida is full of agricultural wonders, so in this edition, we asked five different and unique ag operations how 2013 went for their business, and how they project next year is going to pan out.
[emember_protected custom_msg="Click here and register now to read the rest of the article!"]
---
The Apiary
2013 Highlights: Bees Require TLC after Summer Rains
Summer rains killed lots of flowers this year, cutting off the bees' natural food supply.  It took some tender loving care from beekeepers to make things right.  "This year the hives took a dive in June and July," explains Bill Kranek, president of the Ridge Beekeepers Association.  "We didn't get a lot of honey because they were starving."
He fed his bees sugar water for six weeks until the crisis passed.  Then in September he doubled the number of hives from eight to 16.  "I had a great year," he shares.
An Auburndale-based real estate broker, Kranek describes himself as a hobbyist rather than a commercial beekeeper.  "Mainly I just like caring for bees," he says.  The 58-year-old became interested in bees through a friend.  He joined the Ridge Beekeepers and studied the trade after the bees left his first hive when he used oil-based paint on it.
Although he wears a bee suit and uses a smoker to calm the bees and avoid stings, he's had no complaints about keeping bees at his house.  In fact, a neighbor missed his bees when Kranek moved them to a friend's farm.  The flowers weren't the same.  Kranek, who keeps one hive at home, is looking forward to another good year in 2014.  "I think it should be great."
text by CHERYL ROGERS
photo by PEZZIMENTI
---
THE TREE FARM
Highlights: I-4 Corridor Development Boosts Tree Sales
The economic slowdown took a toll on the nursery industry, driving some growers out of business. But growth along the Interstate 4 corridor in 2013 brought a spike in tree sales. Local business went up 20 percent at Butler Tree Farm north of Lakeland, while out of state sales remained static, says the 69-year-old owner, Joel Butler. Overall, business was up 10 percent.
Butler Tree Farm sells ornamental trees to retailers, landscape companies, plant brokers, and other nurseries. A wholesaler, the 40-year-old company operates throughout the south, from Texas to North Carolina. "A lot of competition has gone out of business, unfortunately. It's not really a good thing," Butler says. "It's been difficult for us."
Butler must gauge the market three years in advance because it takes 18 months to four years to produce a product. Because of a "good call" three years ago, the company received good prices this year. "We got a little bit more money to invest in our young inventory," he says.
Although the company has downsized since a peak in 2007, it is steadily regaining ground. Butler is poised for another good year in 2014. He says, "Everything seems to be pointing in the right direction."
text by CHERYL ROGERS
photos by CAITLIN HALL
---
THE EQUESTRIAN STABLES
Highlights: A Strong Horse Market, Despite Economic Challenges
Horse feed went up dramatically in 2013. With corn diverted for ethanol production, and rain interfering with hay baling, prices climbed, says Jim Hrubesch, co-owner of Schalamar Creek Stables on U.S. Highway 92, between Lakeland and Auburndale. "The expenses have gone up more than the revenue," he explains. "It won't be a record year profit wise because of that."
Despite the obstacles, it was a pretty good year overall at Schalamar Creek Stables. "The horse market is still very strong," Hrubesch states.
2013 brought some positive changes to the stables he owns with Jerry Vandermaas at Schalamar Creek Golf and Country Club. A new trainer, Olympic rider Marie Davidson, brought new boarders. And some enhancements including stall cameras and fans, plus a fly system, have enticed new customers to board their horses. "We made some real improvements in the farm and it's paid off," he says.
The economy has taken a toll on the industry, with fewer people buying new horses and boarding them. But with the enhancements, plus stalls with private paddocks that give the horses access to an outdoor exercise area, he is positioned for another good year in 2014. "We're hoping the economy will get better, "Hrubesch continues, "and we'll get more newcomers into the equine industry."
text by CHERYL ROGERS
photos by CAITLIN HALL
---
THE FISH FARM
Highlights: Fish Farm Planning Upgrades in 2014
2013 brought change at Urban Tropical, a Lakeland fish farm growing ornamental freshwater fish for aquariums. The company upgraded its water degassing system, improving the environment for its fish. "Our breeders are spawning better, our babies are living better," reports Brittany Hollon, the company's office manager, who assists with operations. "We're constantly improving it to make it better."
At the end of 2012, a problem surfaced with their angelfish: A few began dying every day. The problem was pinpointed and a new degassing system built in January to help remove carbon dioxide, ammonia and hydrogen sulfide from the water, Hollon elaborates.
The 12-year-old company, which operates in two Lakeland locations, is planning even more changes for 2014. A new building with more holding vats is planned, along with upgrading many of their hot water heaters from propane to solar power, Hollon says. The smaller vats are easier to heat and will reduce the risk of disease.
The farm is owned by Hollon's parents, Ray and Sue Quillen, and a business partner, Jim Kelly. It raises 27 different varieties of tetra, in addition to angelfish, barbs, and plecostomus.
Now that angelfish production is back up, the business is looking forward to a prosperous year in 2014. Hollon concludes, "We hope to thrive."
text by CHERYL ROGERS
---
THE OLIVE FARM
Highlights: Smith Family Ranch Growing Olives Near Green Swamp
At the Smith Family Ranch on the edge of Green Swamp, Donna and Ted Smith are growing a fairly unique crop for Central Florida: Olives. They planted five of their 110 acres with olives about two and a half years ago. The crop is an addition to their sod farm and ranch, and is another way the farm hopes to diversify its ag operation.
Donna Smith says they have nearly 4,000 trees on a trellis system, planted densely, as an experiment. "Last winter wasn't bad. We made it through, no problem," she says.
The problem was a freeze in 2011. "We lost half of the trees to freeze and the other half— it knocked them all the way back to the ground," she recalls.
As a result, they replanted. "We should have been able to harvest next September. But we probably won't be able to," she says. "You just can't predict our weather. It is a risk in farming. Everything is a risk."
Smith Family Ranch is growing two varieties of green olives to be used for olive oil. They plan to have the crop harvested by a mobile picking/processing unit that operates above the trees, knocking off ripe olives.
It's hard to predict what 2014 will bring. "It's pretty much wait and see," says Donna Smith, who is hoping to harvest in 2015.
text by CHERYL ROGERS
photos by CAITLIN HALL