Use Fresh Florida Fruit to Create Your Own Spread
by CAROL CORLEY
We live in a state where fresh fruit is available almost all year long, and enjoying fruit in jams is a good way to boost health with vitamins, antioxidants, and fiber.
This time of year, Floridians can easily get fresh blueberries, strawberries, watermelons, and citrus. Soon you can add peaches, guava, papaya, and many vegetables.
Jams are made from crushed fruits combined with sugar and heated until it reaches a settling point. They get their thickness from pectin. Some fruits already naturally contain a lot, while others require additional pectin.
While jams can be a good way to enjoy our fresh fruits, care should be taken to avoid a high sugar content. You can't necessarily avoid all sugars, but making your own jams will give you control. The fresher the fruit, the more natural sweetness it will reflect and the less sugar you will have to add.
There are other sweeteners you can use to make jam besides sugar — maple syrup, honey, agave nectar, and stevia. Pectin would be needed to allow the jam to thicken if sugar isn't used.
The first step in making jam might be picking the fruit with youngsters — out in the fresh warm air at farms that offer self-pick options. And then these experiences can be remembered when the jam is enjoyed through the rest of the year.
One thing to consider when making jam at home is safety. Mom used to make jam a lot, and she sealed her jars with paraffin. We now know that those seals are not safe because over time, paraffin wax shrinks, leaving the product susceptible to mold and yeast growths. Another concern is the deadly toxin botulism. Be careful with storing your jams, also. The freezer is always a good option.
Jam can be wonderful on toast or waffles. But there can be many uses for it — in smoothies, as a glaze on pork or chicken, with cheeses, as a topping on puddings or even cheesecake. Your imagination is your only limit for use of this special treat.
Mixed Berry Jam
(Adapted from Williams Sonoma Test Kitchen)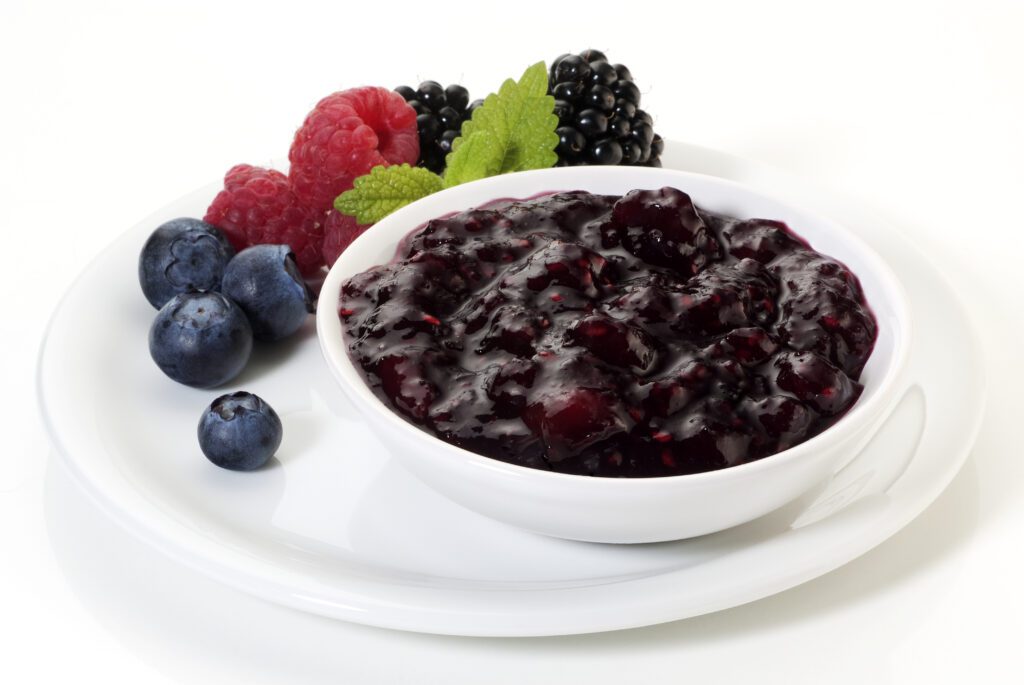 Ingredients:
Strawberries, blueberries, blackberries (or berries of choice), 2 cups each
Sugar, 2-1/4 cups
Lime, 1, zest and juice fresh
Lemon juice, 1/2 cup fresh
Directions:
Using a large saucepan, stir together all ingredients and bring to a boil over medium-high heat. Reduce heat and cook uncovered at medium heat, stirring frequently, about 15 minutes, or until thickened. The jam will continue to thicken as it cools. Ladle the jam into 6 8-oz jars which have been sterilized, along with their lids. Leave about 3/4-inch space at the top, and remove any air bubbles. Wipe the rims clean and seal tightly with the lids.
The jars should then be processed in a boiling-water bath for 10-12 minutes then removed and allowed to cool. The jams in their sealed jars can be stored in a cool dark place for up to a year. Do not use it if a seal has failed.
Watermelon Jam
(Adapted from foodnetwork.com)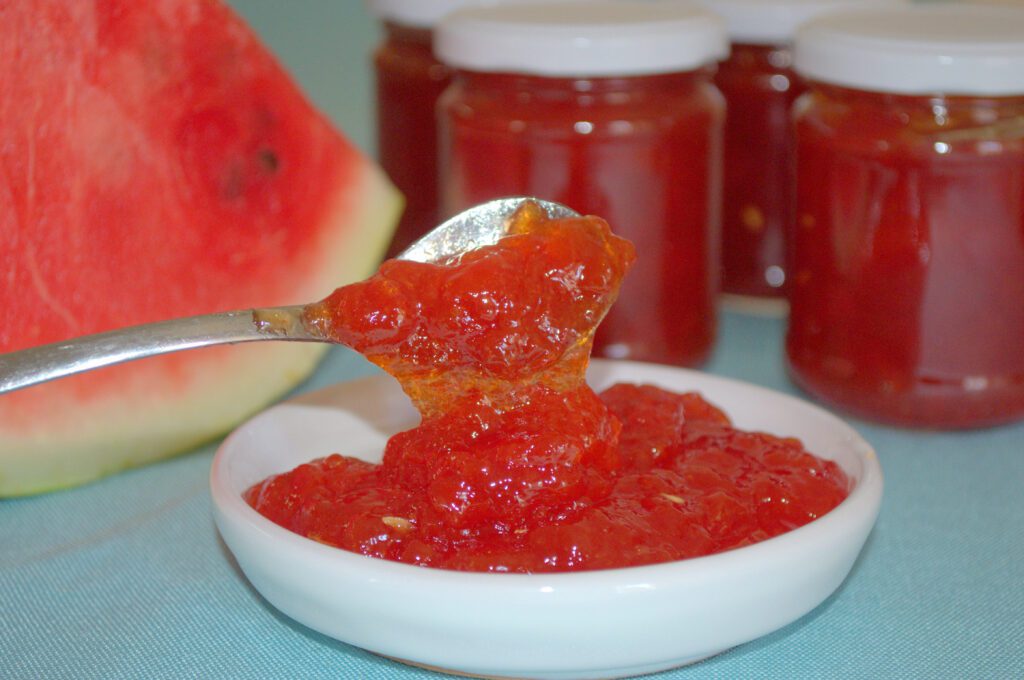 Ingredients:
Watermelon, ripe, 12 ounces cubed, seeds removed
Sugar, 1/2 cup, less if fruit is very ripe
Pectin, 2 tablespoons instant
Lemon juice, 2-1/2 teaspoons fresh
Salt, 1/4 teaspoon
Directions:
Place watermelon cubes in a blender and blend to preferred jam consistency then stir in lemon juice. Meanwhile, stir sugar, pectin and salt in a bowl. Add watermelon mixture and combine well, until sugar has completely dissolved. Allow mixture to rest at room temperature until thickened, about 45 minutes. It will coat the back of a spoon when dipped. Spoon mixture into two 8-ounce jars and keep in the refrigerator for up to two weeks. You can also put some in a freezer container and store in the freezer for up to 1 year. Leave 3/4-inch room at top of container if freezing.
Strawberry Freezer Jam
(Adapted from truvia.com)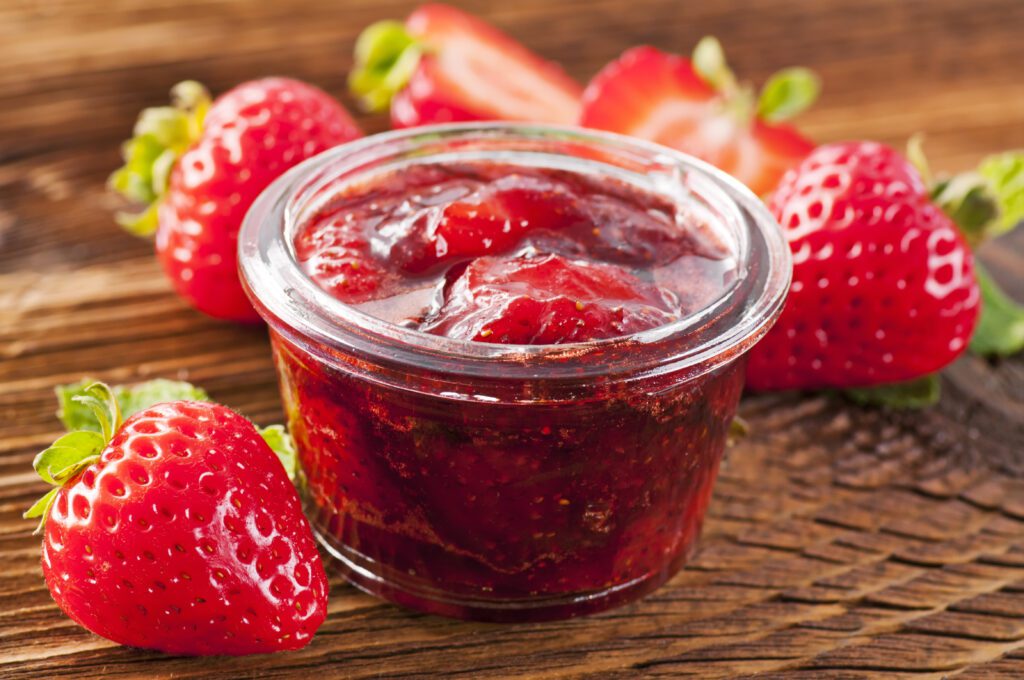 Ingredients:
Strawberries, 2-1/4 cups crushed
Truvia (stevia) granulated sweetener, 2/3 cup
Pectin, 25 grams
Water, 1/2 cup
Directions:
Using a masher, crush strawberries 1 cup at a time, after washing and hulling berries. In a saucepan, blend together water, Truvia and pectin and boil on medium-high heat for one minute, stirring constantly. Remove from heat and add fruit, stirring until thoroughly mixed.
Take several plastic containers, with tight-fitting lids that have been washed, rinsed, and dried. Add fruit mixture, leaving about 3/4-inch at the top. Cover, and let stand at room temperature for 24 hours or until set. Store jam in the freezer for as long as a year. Thaw in the refrigerator before using, and jam may remain in the refrigerator for up to 3 weeks.