Glenn Beck Honored for His Contributions to the industry, Fight Against Greening
by PAUL CATALA
photo provided by AGNET MEDIA
For four generations, the Becks have been a steadfast, positive presence in Florida citrus.
But it's within the current generation the family's impact on one of the state's signature industries was highlighted and brought to the forefront.
During the Florida Citrus Industry Annual Conference on June 14 to 16 in Bonita Springs, Glenn Beck – whose great-grandfather began growing citrus in Sumter County in 1894 – was announced as the recipient of Florida Grower's 2023 Citrus Achievement Award.
Beck, 59, was honored for his work in the ongoing fight citrus greening and while maintaining those efforts despite weather disasters, including a major 2022 hurricane. He also served on the CRAFT Board, citrus research and field trials.
Beck, who is president of his family's Beck Brothers Citrus, Inc., says the Achievement Award came as "quite of a surprise" to him.
"It's a nice award recognizing my work in the industry, both being in the public spotlight as far as promoting Florida citrus and going to Washington and going to Tallahassee on the industry's behalf," says Beck, who has served as president of Florida Citrus Mutual board since 2021.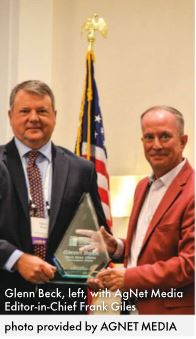 Beck co-owns and manages Beck Brothers with his brother, Mark, and oversees about 20 employees plus seasonal workers. The company once owned about 8,500 acres in Orange, Lake, Polk, Osceola, Hardee and Highlands counties, but is now down to about 5,000. Of those, the company owns 3,000 and manages another 2,000. Beck Brothers doesn't do any harvesting, but work primarily in citrus cultivation – planting, mowing, spraying, irrigation maintenance and fertilizing. They focus on common round oranges and some tangerines, although at one time worked with grapefruit.
And one of the areas of citrus business acumen in which Beck stands out is his work against citrus greening, which has been decimating citrus groves across Florida since 1998. He's a strong proponent of oxytetracycline trunk-injection therapy, which he has utilized in his own groves. He says results have been good with the products' uses and their ability to fight bacteria within citrus trees.
Beck recalls the early 2000s, when the citrus season was pulling in upwards of 200 million boxes of oranges.
"That just shows you how far the industry has fallen," he says.
"By far, (greening) is the most devastating thing to ever hit citrus. There's always been the standard hurricanes and droughts and pests and disease, but all of them pale in comparison next to HLB. It is what's been responsible for the decimation of the industry, and it's not going away. Trunk injection) is what's kind of providing hope as of right now going forward. We've been at this for almost two decades in the fight with a multitude of nutritional programs and compound use and none of them have really yielded a lot of success. There's a lot of people in the industry, including myself, who are saying, 'This is what's really going to keep us in the game.' "
Beck's work on greening, trunk-injection therapy, and citrus industry revitalization are appreciated throughout the industry.
Gene McAvoy, president of Have Gun Will Travel Agricultural Consulting LLC and regional vegetable/horticulture extension agent IV emeritus of
UF/IFAS, says Beck stays on the forefront of citrus viability and profitability.
"He was and is definitely a leader in the industry and as president and board member of Citrus Mutual," he says. "He has represented the industry in Tallahassee and Washington, D.C., through some difficult times including the freezes of 2022, Hurricane Ian, and the battle against greening."
Bill Lennon, who is involved in grove management and maintenance, says Beck has a "unique grower perspective" with a lifelong commitment to Florida citrus industry health.
"When you make a commitment like that, there's no exit strategy," Lennon says. "He's a farmer/grower and does what he has to in order to keep going. He believes in this passionately, and that's seen in how he grows and maintains citrus."
Matt Joyner, executive vice president and CEO of Florida Citrus Mutual, calls Beck "an outstanding citrus grower, a tireless advocate for the Florida citrus industry, and a servant leader." He praises Beck for his advocacy efforts with policymakers in Tallahassee and Washington, D.C., as well as his education efforts with those in the citrus industry.
"Glenn's positive attitude and understanding of the industry have been invaluable as he has led the state's largest citrus trade organization through some of the most challenging years in the industry's history," Joyner says.