Chad Anderson: Working to Preserve Natural Florida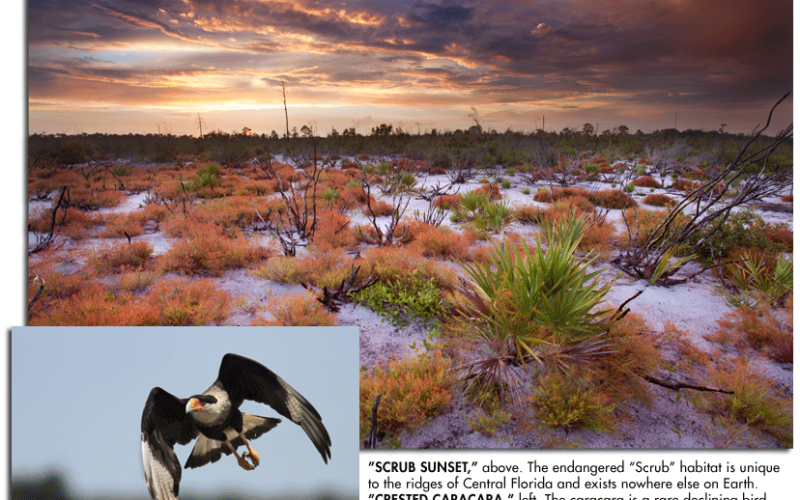 By day, Chad Anderson is a biologist for the U.S. Fish and Wildlife Service in the Florida Keys. By night and on weekends, he is a conservation photographer. In both jobs, he works to preserve Florida's wildlife heritage. "Conservation and Florida, those are my passions," says Anderson, who was born in St. Petersburg and raised in Dade City. "Mostly it's capturing the beautiful parts of Florida that are left."
As a biologist at the National Key Deer Refuge at Big Pine Key, about 30 miles northeast of Key West, Anderson works to preserve endangered deer the size of large dogs. The deer roam freely on Big Pine and adjacent islands.
His job involves collecting and analyzing data and taking out tour groups. "During the week, it's all about protocol, standard operating procedures, the rules of science and math. I'm bound by those things," he observes.
But since his college days, when he packed a camera on his trip to Africa, Anderson also has enjoyed shooting pictures of wildlife and landscapes. Photography lets him express his creative side when he's out in nature after hours. "You really need to immerse yourself to stalk up to a bird or wildlife … to get that special behavior … that special moment of light," says Anderson. "The key for me being a biologist is knowing the ecosystem, knowing the species, and immersing myself."
Anderson, who earned a bachelor of science degree in environment from the University of South Florida's St. Petersburg campus, likes to photograph scenes reminiscent of his youth in Pasco County. At the time, Pasco was a land of rolling hills and pastures, giant live oaks, and pinelands flush with palmettos. It was a time when he connected with nature as he helped with his grandparents' citrus trees, or while he was fishing, camping, and canoeing.
As a seventh-generation Floridian, the 31-year-old Anderson loves to share those special places with others who may not notice them, even though they may be as close as their own backyard. "It's amazing how diverse and how beautiful Florida is," he says.
Originally his photos were mostly wildlife portraits. "That was something I focused on that was instinctual to me," he recalls. "Later I learned to be a landscape photographer." Landscape photography requires more planning. Photographers need to find the right location, then wait for the right sky and other elements that help them compose artistic images.
Although his two careers in conservation might appear to be part of a well-thought-out plan, Anderson says that's not the case. "These things just kind of manifested themselves," he says. "It's nice to be able to donate images to environmental education … It's worked out well." For Anderson, his photographs are not only pure representations of Florida, but also a tool that transcends the viewer from the modern world into the natural environment.
To view more of Chad Anderson's fine art, visit www.exposingfloridaphotography.net, or to purchase photography, email Anderson at canderson00022@msn.com.
CREDIT
story by CHERYL ROGERS
Tags:
Africa
,
bachelor of science degree
,
Big Pine Key
,
biologist
,
bird
,
camping
,
Chad Anderson
,
Cheryl Rogers
,
conoeing
,
conservationist
,
environment
,
fishing
,
Florida Keys
,
Key West
,
landscapes
,
National Key Deer Refuge
,
natural Florida
,
nature
,
Pasco County
,
photographer
,
St. Petersburg
,
St. Petersburg campus
,
U.S. Fish and Wildlife Service
,
University of South Florida
,
wildlife
,
wildlife heritage