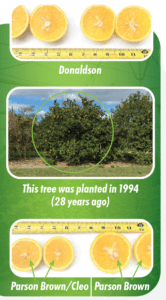 Lesson to the Wise: Attend the Field Days. You never know what might happen.
Growers, processors, packers and nurserymen met at the Whitmore Foundation Farm on December 3rd in doing a farm tour of the variety display, rootstock trials, scion trials, new scion plantings, replicated trials of advanced material, and NVDMC's variety demonstration block introducing the citrus industry to some of the orange and orange-like selections in the USDA collection. Several of the selections drew praise from participants, but one seemed to garner a disproportionate share of attention: The Donaldson Sweet Orange.
We don't know much about the origins of the Donaldson Sweet orange. New Varieties Development & Management Corp. (NVDMC) and USDA are scouring records far and wide for any information about this variety. It may be a unique one of a kind orange and it may be an heirloom variety that never gained widespread popularity. The earliest mention found of Donaldson so far, dates back to 1961 at the old USDA Hiawassee Farm. The tree was later relocated to the Whitmore Foundation Farm. The tree now at Whitmore appears to have been propagated from the original source in 1994. The Donaldson is thought to be a true sweet orange. The single specimen is on a Swingle rootstock and appears quite healthy. It shows some HLB symptoms, but has a dense canopy, a normal crop load, and the fruit is holding firm to the tree. Some of those present at the Field Day thought the Donaldson resembled a Hamlin, while others thought its flavor was better than a Hamlin.
So what happens now? NVDMC serves as the master licensor for USDA-ARS citrus varieties. NVDMC attended the December Mutual Board meeting and got clear direction to do whatever was necessary to work with USDA-ARS in Ft. Pierce to provide interested growers access this material as soon as possible. Such steps require the close cooperation of USDA Tech Transfer and FDACS DPI. USDA-ARS Fort Pierce has propagated this material in a quarantine greenhouse and ARS and processors are evaluating fruit and juice quality. Since the field day, the Donaldson Orange was immediately entered into the FDACS Parent Tree Program (commonly referred to as cleanup) and given priority status.
The fruit test were split into two batches. The Donaldson fruit was extracted then with Fresh N' Squeeze extractor and then pasteurized them with a microthermics unit.
Batch 1 Batch2
Brix 11.07 11.04
Acid 0.721 0.695
Ratio 15.35 15.88
Color Number 34.1 33.7
Vit. C mg/240ml 151 153
Scott Oil 0.015 0.016
Limonin (ppm) 0.9 0.6
Both batches had a very good orange flavor.