From suburan life to aglife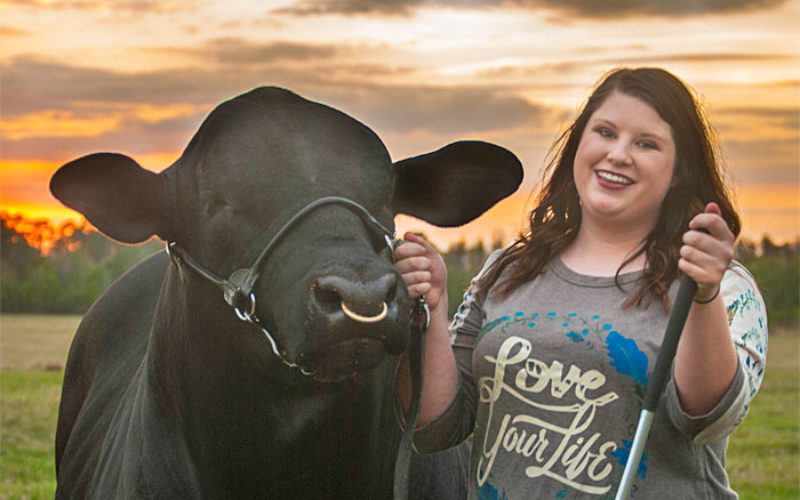 Cassidy Polston joins family in cattle-raising tradition
CASSIDY POLSTON AND her family were living a typical suburban lifestyle. As a little girl, she was thinking about becoming a lawyer or a chef. But something changed when her oldest sister Brittany bought a cow while attending Lakeland High School.
The one cow led to 22— and kindled a passion for agriculture. Or, more precisely, raising cattle. Now the Lakeland family, which has been raising cattle on borrowed land, is looking for property of their own. "We just sold our home," says Cassidy's mom, Debbie. "We're hoping … to find at least 25 acres."
Cassidy was pretty young when Brittany bought the cow for a high school FFA project. "I fell in love with being around animals," the 18-year-old recalls.
At eight years old, Cassidy bought her own cow, Rosie. Now eight of the family's 22 head of cattle are hers. Her favorite is Dodge, the 2016 National Junior Brangus Show Reserve Grand Champion Bull. Clover was named for the 4-H Clover. Then there's Caroline, Cara, Cataline, Cinch, and Lily, who had a bull calf on Valentine's Day named Romeo. "My favorite part about having cows is watching the cows give birth," she says. "It's exciting to bring a new life into the world."
Cassidy has discovered a lot of similarities between cows and people. "It's basically like raising kids," she explains. "They're so similar to us. They have the same emotions. They actually feed off your emotions. If you're calm, they stay calm."
A homeschooler, she usually spends five to seven hours a day with the cows feeding them, watering them and doing things like trimming their hooves.
Nicole Walker, Polk County Extension Director and 4-H Youth and Community Development Agent, has noted Cassidy's drive. "I'm very glad she chose to participate in 4-H throughout her middle and high school years," Walker says.
4-H is the "youth development program" of the University of Florida's Institute of Food and Agricultural Science Extension Service, she shares. "4-H has its roots in agriculture and continues to grow 'agriculturally literate' young people," Walker adds. "The aim of 4-H is to assist youth in recognizing their own greatness and building their skills for life— skills like goal-setting, leading (and following, when appropriate) others, record keeping, being empathetic, appreciating the diversity of people, and many others."
Cassidy says 4-H helped her work with and encourage others. "I just gained a better perspective of life and how to be responsible for things," she says. She's also learned life skills, such as public speaking.
For Cassidy and her family, raising cows has been a life changer. "I just think being involved in all that has helped me grow and become the person that I am today," she elaborates. For one, it's changed her career focus. "I'm really interested in the business side of agriculture," she says.
A senior, Cassidy plans to attend Hillsborough Community College in Plant City and earn an Associate of Arts degree like her sister Allyson. Afterwards, she would like to earn her Bachelor's in Agribusiness, with a minor in leadership. She hopes to work with an agricultural firm and continue to own cattle.
Cassidy is following in her sisters' footsteps into ag careers. Brittany is an ag teacher at Bartow Middle School and Allyson is planning to earn her bachelor's degree at UF in Agriculture Education/Communication.
Cassidy's 12-page resume lists her accomplishments in agriculture. It includes working the concession stand for Polk County Cattlewomen and the Cattlemen's Ranch Rodeo. In addition to mission trips and volunteering at her church, she's served as Polk City 4-H president in 2016-2017 and 2015-2016. She currently sits on the International Junior Brangus Breeders Association Board of Directors. She also worked on the Show Ring for the Florida State Fair Open Brangus Show this year.
Cassidy's showmanship record dates back to 2008, when she claimed the 2008 Polk County Youth Fair Beef Junior Showmanship Champion title.
She began winning Junior Brangus Show awards in 2011, when she claimed the prize as 2011 Osceola County Fair Reserve Grand Champion Brangus Heifer. She's won multiple awards since then, earning two 2017 Florida State Fair Grand Champion Brangus (State) titles. She also took five prizes at the Polk County Youth Fair, including three Grand and two Reserve champion awards.
Raising cows has become the new family routine. "I honestly don't know what I would be doing with my life if I didn't have cows," Cassidy states. "We've been doing this for 13 years as a family."
Debbie's granddaughter Annabelle, who recently turned two, is involved too. "She already loves it," Debbie says. "She's out here with us all the time."
CREDITS
article by CHERYL ROGERS
photos by J&A PHOTOGRAPHY