I'm late. I'm late for a very important… These hectic days it seems like we are all modeled after the White Rabbit from the novel Alice's Adventures in Wonderland. But being in a hurry is no excuse to start your day with a cup of black coffee and a doughnut at work.
Here's another Florida-inspired smoothie for a delicious morning on the go! Recipe courtesy of the Florida Department of Citrus.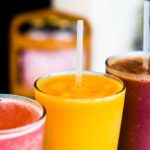 Space Coast Smoothie
Yield: Makes one serving
Ingredients
1 cup Florida grapefruit juice
1/2 cup vanilla yogurt
2 tablespoons mojito-flavored syrup*
4 ice cubes
Fresh mint leaves, optional
*Flavored syrups are available in supermarkets. Mint-flavored syrup can be substituted.
Preparation
Combine grapefruit juice, yogurt, syrup and ice in blender; cover and blend until smooth. Pour into glass and garnish with mint leaf, if desired.
A few minutes of preparation in the evening can save barrels of time in the morning. You can't go far wrong with a citrus smoothie to start the day.
The basics are orange juice, fruit (including a banana), yogurt, milk, and a few bits and pieces if you like them.
A friend wrote online that she packages mixtures of fruit when she brings them home from the store. Each bag has a variety that makes one smoothie. Oranges, peaches, berries, grapes, apples, whatever she likes the kids to have that day.
Come orange season, freeze the juice in ice cube trays. If your blender container fits in the fridge, you are far ahead of the hectic morning game.
Pour a half cup of OJ into the blender. Now add a couple of big glops of yogurt (we use Greek), and a half cup of milk. Store that in the fridge.
Everybody should have an electric coffee grinder just for spices. Whirr up a tablespoon of flax seed and a tablespoon or more of raw oatmeal. A little cinnamon or cardamom goes well with most fruits. Set that aside for morning.
First thing in the morning, before the kiddy chaos sets in, grab a banana from the bunch on the counter and break it into the blender. Peeled, of course. Whirr that a few seconds. Add the flax and oatmeal. Whirr. Pour in your bag of frozen fruit and let it blend until it's smooth. Now is the time to add the frozen OJ cubes, too.
Don't leave the fruit in the fridge overnight. It will thaw and you'll lose that great thick, frozen texture. If your frozen fruit makes the drink so thick that it's almost spoonable, you can thin it with a little more orange juice or milk. Pour into a glass and take it with you as you get ready to face the day.
Smoothies get citrusier (Isn't that a cute word? But, admittedly, hard to say) when oranges are in season, thanks to the juice cubes. Tangerines are great because they can be peeled at night and waiting in the fridge for their time to take center stage in the blender. They'll freeze, too.
The Mad Hatter and the March Hare tried to fix the White Rabbit's watch at The Mad Tea Party by adding butter, tea, jam, and lemon to it. They didn't fix the watch, but they can impart fun flavors to your smoothie. Not the butter, of course.
Iced tea with lemon is fun and refreshing. Try it in a smoothie with orange juice or chunks.
An orange base gets a touch of sweetening from a glop of Florida strawberry jam you made in berry season. You're off!
CREDITS
story by TRENT ROWE, Food Editor