Marshal Sewell's Pain and Loss Become a Lifeline for Others
by Ryan Milejczak
Farming is one of the most important jobs in our society. Any time you eat a meal, you have numerous farmers and agricultural workers to thank for making it all possible. Despite the importance of this work, however, many people aren't aware of how many struggles our farmers face.
Ask any farmer and they'll tell you: Farming is not an easy job. Worse, in the face of severe issues like crop failures and natural disasters, many farmers can find themselves struggling with their mental health. At the same time, many in agriculture lack the tools and knowledge to properly cope with this severe stress.
However, one Florida man is trying to change just that: Marshal Sewell. His website, Mind Your Melon, aims to provide mental health resources for those in agriculture and beyond.
Sewell, who now lives in Bronson with his wife and daughter, grew up in Plant City on a fruit and vegetable farm that had been in his family for five generations. He is deeply familiar with the devastation that can unfold when a farmer is facing the worst.
In Sewell's senior year of high school, his family's farm suffered a crop failure. Faced with insurmountable fallout that followed, his father chose to take his own life.
Afterward, Sewell's family worked to keep the farm going and maintain the operation despite their loss. Sewell graduated high school and went on to study Ag Business at the University of Florida and started working for Seminis.
"I knew that if I wasn't farming, I wanted to work in a role where I could help farmers," he says, continuing, "Hence how I ended up at the seed company, wanting to bring new innovation and new genetics to farmers to help them be successful."
However, the loss of his father weighed heavily on his mind, and he felt a powerful desire to better understand what his father went through.
"There was so much that I didn't understand, and so many questions that were left unanswered. I personally wanted to better understand the mindset, psychology, stress, depression, and all of those things that my dad must have been going through," he says.
Sewell devoted himself to independently studying psychology and mental health to get a deeper understanding. But it wasn't until he was asked to speak at a conference that the seeds of Mind Your Melon were planted.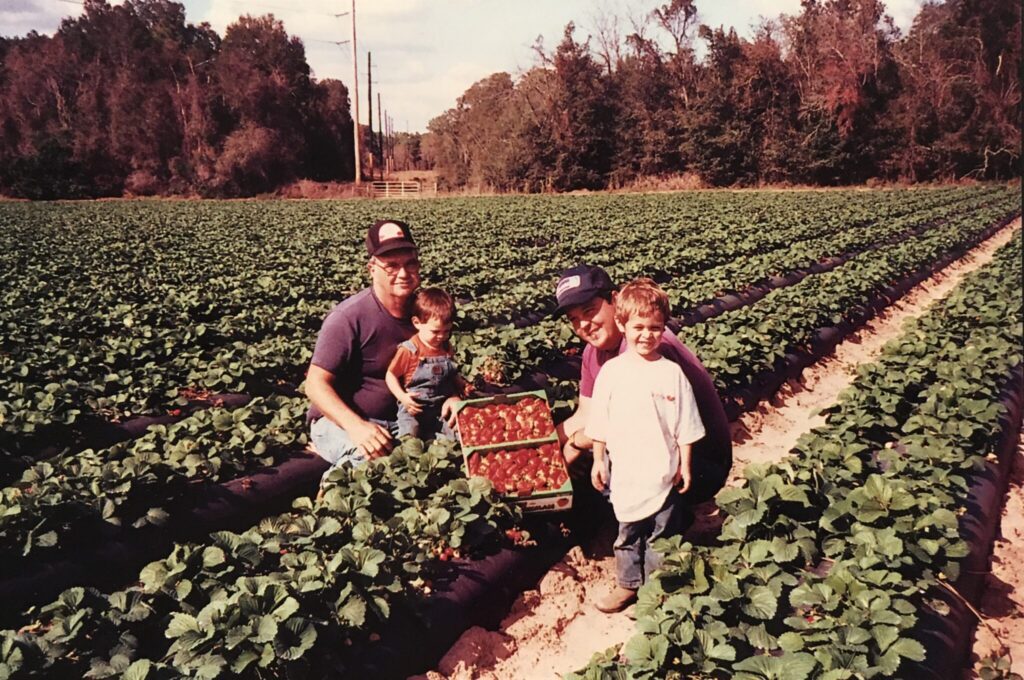 THE FIRST STEP
It all started in 2018, in the wake of Hurricane Michael and the brutal destruction it caused across the South. Acquaintances of his who worked at the Georgia Farm Bureau reached out to Sewell and asked whether he could give a talk to help those affected.
"They reached out and said, 'Hey, we know about your family's experience and what you went through,' " recounts Sewell. " 'We have growers who are facing a lot of loss, they don't know what to do. We've already lost some members of our ag community, and we're scared for others. Could you please come and just speak for a bit?' "
At first, Sewell was unsure what to think of this offer, and he wasn't sure he was the best person for the job. He agreed to speak at the Georgia Farm Bureau's annual Young Farmers and Ranchers Conference, approaching it with the mindset that if he could just help one person, it would all be worth it.
"I fully expected it to be a one-and-done thing," he says of the event, "but since then, it's just sort of continued to snowball."
Answering the Call
Sewell continued this grassroots advocacy and outreach work for many years with the help of his family. Eventually, they decided it was time to make things more official.
"We realized this is a big enough need and we need to recognize it somehow. There needed to be some sort of a home for this work we do," he says.
Recognizing this, Sewell started a website providing these mental health resources, and the cleverly named Mind Your Melon was born.
Today, Mind Your Melon provides helpful blog posts, resources for "minding your melon," and the Mind Your Melon podcast, where Sewell and his guests discuss mental health, overcoming challenges, and making a difference.
"We want to encourage people to take a proactive approach to healthy lifestyles," he says, adding, "We've really thrown the reactive approach at a lot of things. We wait until something goes wrong and we focus on repairing it. How do we instead mitigate this risk or potential stress in advance, rather than waiting for things to really come to a head? That's the approach that I like and that I try to encourage."
With Mind Your Melon, Sewell has been able to raise awareness about mental health and help numerous people in agriculture. Because of the unique issues farmers face, Mind Your Melon serves as a powerful bank of resources for them.
"When you look at the agriculture industry, the amount of pressure on time and on schedule is significant. I think that's something very relevant and fairly unique to the ag industry," he says, going on to add, "You have people that are reluctant to talk about mental health, stress, emotions, things like that. But when we start looking at it from the standpoint of the stressors and challenges we face in the industry, that's something that is pretty unanimous among producers and among industry members."
As Mind Your Melon continues to thrive, Sewell has great hopes for it. He and his family hope to continue growing their outreach and serving as a hub for valuable resources for the ag community. Their hope is that raising awareness can help to destigmatize the topic of mental health, especially in a community that doesn't tend to be forthright about such topics.
"We really want to make sure that within this conversation people understand that mental health is not synonymous with mental illness. Each and every one of us is dealing with mental health."