FAMILIES FROM 70 operational ranches and farms from 30 Florida counties recently gathered in Central Florida for one reason: conserving Florida's invaluable agricultural lands.
These families, many with three and four generations in attendance, presented their family-owned farms and ranches to a group committed to conserving Florida's precious landscapes and their environmental benefits, without jeopardizing any of the economic value that the land provides to the local community.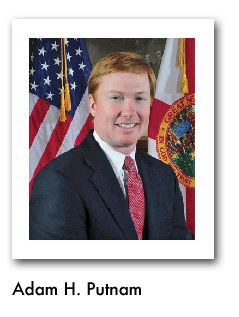 Florida's agricultural lands provide the food and fiber we have come to depend on and are among our state's most valuable resources. Beyond the 300 agricultural commodities, livelihood and rich culture these lands provide, they provide billions of dollars in state and local taxes every year that fund education, first responders, and much more.
For nearly 500 years, Florida farmers and ranchers have proven themselves as Florida's original conservationists and great stewards of Florida's rural lands and natural resources. Because of this, the Florida Department of Agriculture and Consumer Services has collaborated with our state's ranchers and farmers to protect important agricultural lands, and their immeasurable environmental benefits, for generations to come.
The Florida Department of Agriculture and Consumer Services' Rural and Family Lands Protection Program was created to acquire perpetual agricultural conservation easements that ensure lands will be preserved in agricultural use — indefinitely. At the same time, by placing these agricultural lands in conservation easement and slowing the tide of development in rural Florida, we are also protecting natural resources with untold environmental benefits in a cost effective way for Florida's taxpayers.
Originally created in 2001, the department's Rural and Family Lands Protection Program has collaborated with the agriculture community and successfully acquired the development rights to 20 active agricultural operations, totaling nearly 13,000 acres of land. In fact, the total land preserved has more than doubled in the last two years, and we have no intention of slowing down.
A few weeks after those families gathered in Central Florida, the Florida Board of Trustees, which includes the Governor, Attorney General, Chief Financial Officer and myself, met and approved the newest additions to the Rural and Family Land Program, JB Ranch and Kilbee Ranch. The JB Ranch is a third-generation, family-owned ranch in Collier County that borders the Big Cypress National Preserve. Kilbee Ranch has been operated by the same family since the 1920s; it shares an eastern boundary with the Little Big Econ State Forest and is near the St. Johns and Econlockhatchee rivers in Seminole County.
With these two new additions, totaling nearly 3,000 acres, critically important land is now protected from development while still producing world-class agricultural products.
Florida agricultural lands, and the jobs and culture they support, are a resource worth protecting. The Florida Department of Agriculture and Consumer Services is committed to working with Florida's landowners to preserve Florida's precious landscape for generations to come.
CREDIT
article by Florida Agriculture Commissioner ADAM H. PUTNAM