Tips on Selecting the Ideal Gourd, Plus a Bonus Recipe
by BRAD BUCK, UF/IFAS
It's almost Halloween, so you might be in the market for a pumpkin to greet your trick-or-treaters. But not just any pumpkin – a jack-o'-lantern. If you are, now is the time to buy one.
"A lot of people want a jack-o'-lantern," says Bob Hochmuth, assistant director of the UF/IFAS North Florida Research and Education Center-Suwannee Valley. "Demand is very high."
With a couple of exceptions, few pumpkins grow in the Sunshine State, because of heat, humidity and white flies, Hochmuth says. Most jack o-'lantern pumpkins Floridians buy are shipped from states in the Northeast and the Carolinas.
A good jack-o'-lantern has a strong stem and does not show signs of mold, said Danielle Treadwell, a UF/IFAS associate professor of horticultural sciences.
"The best — biggest, most unique — decorative pumpkins usually sell out early," Treadwell said.
If you invest in one of these, keep it cool and dry, out of direct sunlight, preferably in the house, in the air-conditioning, and place it on a sheet of wax paper or parchment to protect your furniture and countertops from damage, she says.
Picking and Preparing Your Pumpkin for Carving
Avoid pumpkins with stems that have a cotton-like or powdery coating on them. It may cause the pumpkin to soften more quickly, and it may be difficult to carve.
You can wash stems with room temperature water and a soft brush. Make sure the fruit and stem dry quickly, and don't let moisture remain.
Limit the number of days the pumpkin is outside in Florida. If the weather is dry and warm, and your display location is out of direct sun, you can put the pumpkin out a few days before Halloween – as long as you're not carving it. If you are carving it, you can put it out on Halloween.
A Sea of Seeds
Scoop out the seeds with a large metal spoon and put them into a bowl. The seeds can be separated by hand, or by sieving in a colander or over a narrow-gauge wire rack — similar to the kind you use to cool cookies.
Wash and dry the seeds with a paper towel.
Roast the seeds with a little olive and salt (or garlic powder, paprika, cayenne, etc.), spread on a cookie sheet lined with parchment at 350 to 375 degrees. Keep a close eye on them; stir them a few times. They should be done in 10 to 15 minutes.
Seeds from a pie pumpkin are likely to be more tender and flavorful than a large carving pumpkin since pie pumpkins are selected for their flavor, and carving pumpkins are not.
Now that you've removed what's inside the gourd, you're ready to carve it.
"If you seek a pumpkin to carve, select ones that have enough surface area to create the face or other image," Treadwell says. "Some people prefer wide and short ones — which are best for wide grins — while others seek tall narrow ones, which are great if you want to include eyes, a nose and a mouth."
There are two types of pumpkins: Those you carve (Cucurbita pepo) and pie pumpkins (Cucurbita moschata).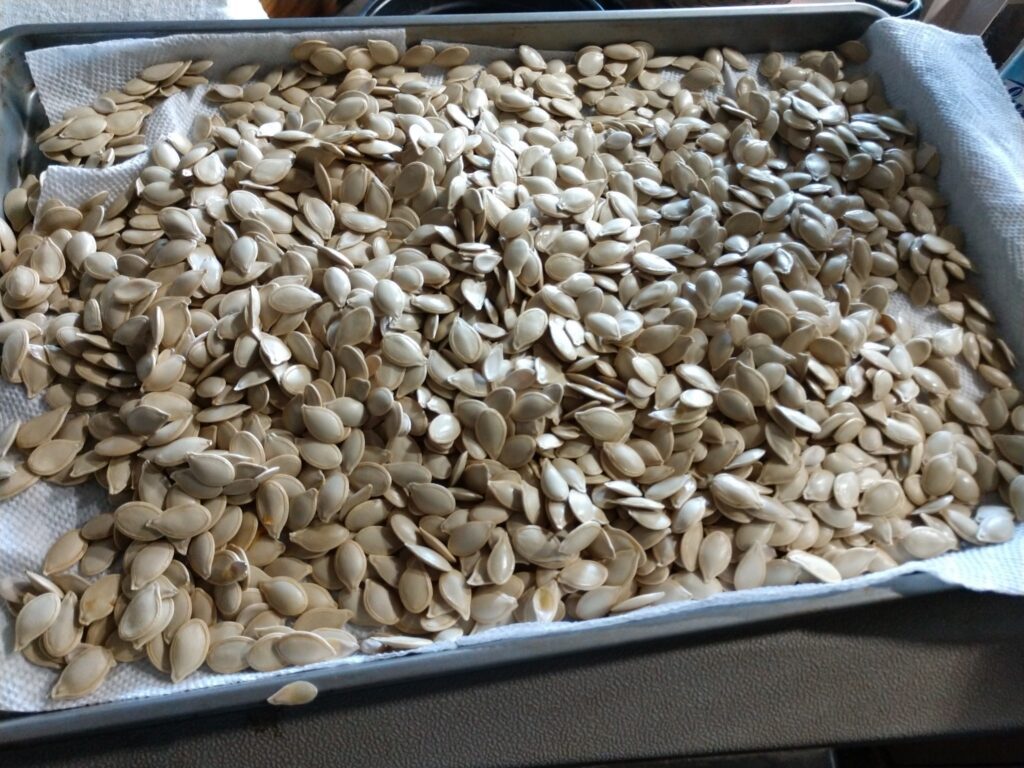 Pumpkin Pancakes
In addition to carving the pumpkin and eating seeds, you can make traditional pumpkin pancakes, said Andrea Nikolai, family and consumer sciences agent and a registered dietitian for UF/IFAS Extension Polk County.
Nikolai's recipe
2 cups of flour
1 tablespoon of baking powder
1 teaspoon of cinnamon
½ teaspoon of pumpkin pie spice
2 eggs
2 tablespoons of oil
1 ½ cups of low-fat milk
¾ of a cup of canned pumpkin or pumpkin puree
2 tablespoons of brown sugar.
Directions
Mix 2 cups of flour, 1 tablespoon baking powder, 1 teaspoon cinnamon, and ½ teaspoon pumpkin pie spice (mix of cinnamon, ginger, nutmeg, and allspice) in one bowl.
In another bowl, mix together 2 eggs, 2 tablespoons oil, 1 ½ cups low-fat milk, ¾ cup canned pumpkin or pumpkin puree (from your pumpkin) and 2 tablespoons brown sugar.
Add the bowl with the eggs to the other bowl and mix just until the dry ingredients are moistened.