by BRAD BUCK, UF/IFAS
As you watch workers use chainsaws to cut down the bines of hop cones for this year's fall harvest, you can almost sense the craft beer the hops will eventually produce.
Last week, scientists at the University of Florida Gulf Coast Research and Education Center (GCREC), hosted about 50 brewers from across the state for the Fall Hops Field Day. The Tampa Bay region alone has more than 100 of the state's nearly 400 brewers, and craft beer artisans and consumers want locally grown hops.
At the field day, researchers encourage brewers and others to smell the hops. The aroma practically transports you to a brewery.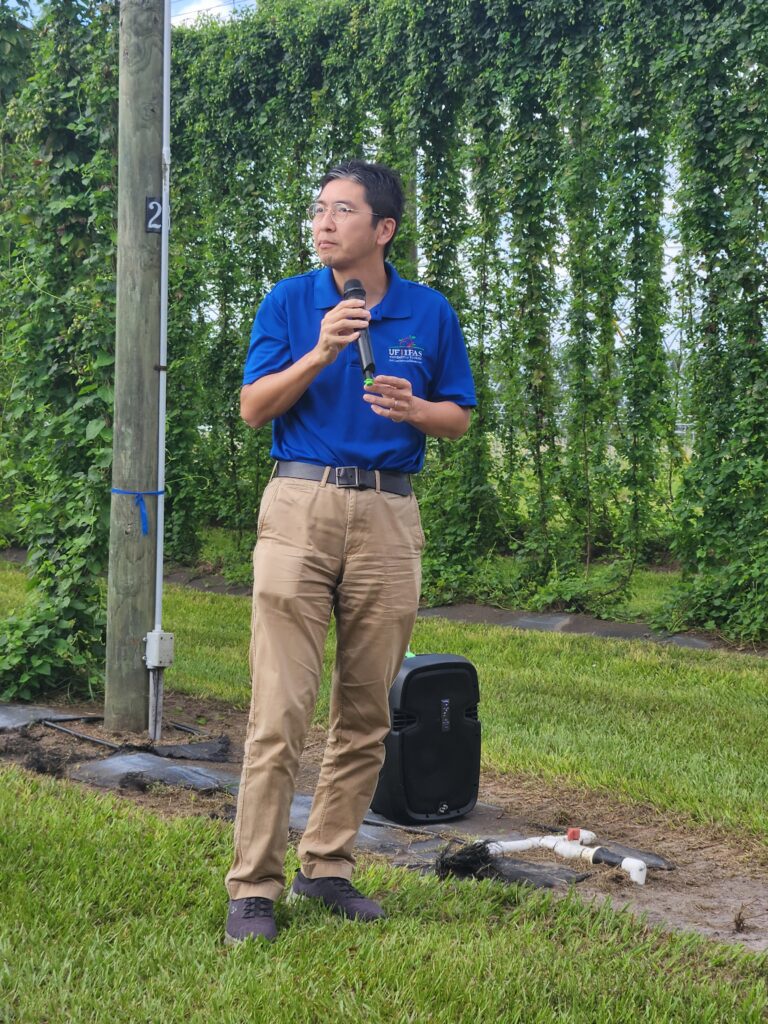 One of the brewers, Zac Collins, works at Grand Central Brewhouse in St. Petersburg. Collins used 'Cascade' hops from UF/IFAS to make a pale ale for the brewery's second anniversary.
"The most attractive quality about the UF hops is that they are grown locally, something I make sure to tell customers," Collins says. "It's a terrific selling point."
That's the business perspective, but from what Collins calls a "strictly nerdy standpoint," he appreciates the fact that Florida could become a player or even a leader in producing quality hops that might one day be used nationwide or worldwide.
"That's just something that I would be so proud to have been a part of the development of with my use and my feedback," he says. "That's what gets me excited about Florida-grown hops."
GCREC, near Tampa, is the only place in the country that harvests hops twice a year – spring and fall.
LED lighting provides the key – it tricks the hops into thinking there's more daylight than there actually is.
Hops require about 15 hours of daylight before they flower. That's why the crop generally grows better in the Pacific Northwest. At peak day-length in summer, Florida gets less than optimal daylight hours.
Shinsuke Agehara, a UF/IFAS associate professor of horticultural sciences, and Zhanao Deng, a UF/IFAS professor of environmental horticulture, lead the UF/IFAS hops research.
"Florida growers may be able to produce a higher yield than the Pacific Northwest — if we can tailor the LED lighting and other horticultural practices according to plant growth habits and requirements in each season," Agehara says.
In addition to LED lighting, Agehara seeks ways to maximize the productivity of hops in Florida's hot, humid climate. In one year, his program recorded 1,600 pounds of hops per acre, which is almost the same yield as in the Pacific Northwest.
Agehara also is trying to explore the environmental factors and farming practices that will contribute to the unique flavor qualities of Florida hops — often referred to as "terroir" in wine. He hopes to add special values to hops grown in Florida's unique climate and soil.
"Moving forward, we hope to get more brewers to make beer using Florida-grown hops and get more consumers to try them," Agehara says. "If we can increase consumer demand for Florida beer brewed with locally grown hops, that will be win-win for everyone, including growers, brewers and consumers."