Recipe Spotlight: Bringing Home the Bacon and the Bunny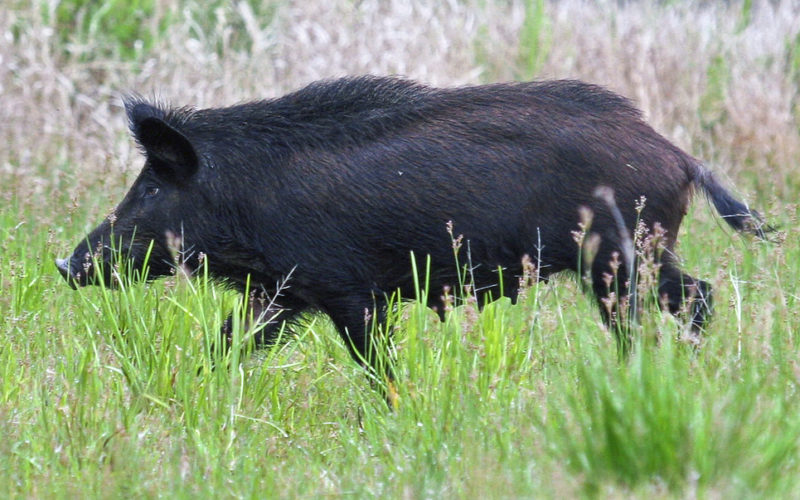 Cooking wild pig doesn't have to be a boar.
We can harvest wild hogs all year in Central Florida, and it might be considered a favor by folks who are plagued by the rooting porkers tearing up the garden or farm. Rabbits are also a year-round treat in Florida. Because rabbits are small they are easy to prepare many ways.
First, let's talk bacon.
Many experts recommend brining wild pork to get rid of some of the gamey taste. [emember_protected custom_msg="Click here and register now to read the rest of the article!"]Soak it in salt and water—as cold as you can get it and keep it that way—for a day or two, until the meat turns white. That obviously doesn't work if you are going to cook a whole animal. Like roast beef, low and slow is the rule.
Once you have the leg or shoulder out of the brine, coat it heavily with spices. Use as much as you like of brown sugar, paprika, salt, black pepper, dry mustard, ground cumin, cayenne pepper, chili powder, etc. The spices will help seal the moisture in. For a shoulder where there is skin or a layer of fat on one side, cover the other side with bacon.
Now, do it low and slow for up to 10 or 11 hours over indirect heat, until the meat can be pulled apart easily. Internal temperature must be 175 degrees to be safe.
Smaller pieces are great braised, much as you would a chewy chunk of beef.
Try a boar stew for some of the smaller bits. Give it a European flavor with a few crushed juniper berries. No juniper berries? Try a slug of gin.
Other favorite flavors for a boar stew are red wine, rosemary, garlic, and sage. Fry onion and garlic, add the meat and brown it well. Now add some red wine and let it cook slowly until most of the wine has gone into the meat. Now add three three cups of crushed tomatoes, let it simmer and reduce until the meat is tender, about two hours. Add a half cup of water to make sauce just before serving.
For a one-pot meal, add carrots and potatoes about 30 minute before the meat is done, and keep enough sauce in the pot to cover the vegetables.
Now to the bunny.
Once it's skinned, cleaned and cut up you can treat it like chicken. It won't taste like chicken but it will cook like one.
Dredge it in flour and fry it. You're done. That gives you the pure taste of the rabbit.
Get a little fancy with a Burgundy-style stew. Marinate the pieces overnight in red wine, vegetable oil, sliced onion, 4 juniper berries, bay leaves, rosemary, and a little salt and pepper.
Heat the oven to 350 degrees. Drain and dredge the rabbit in flour. Cook half a pound of pancetta or bacon (cut into small pieces) in a Dutch oven to render the fat. Remove the bacon and add the rabbit to brown. Do it in two batches. Remove most of the fat and add celery, potatoes, and carrots. Cook about five minutes. Add one and a half cups chicken stock and scrape the bottom of the pan to get all the flavor. Add the strained marinade. Add the rabbit, cover and bake about an hour.
While the rabbit cooks, brown some canned small onions in butter.
After an hour or so, uncover the oven dish and add half a cup port wine, a quarter cup blackberry preserves, and the onions. Lower the heat, cover and cook 20 to 30 minutes. Some of the bacon can be added back for flavor. Serve in large bowls with the pan juices.
CREDITS
story by Trent Rowe, Food Editor
[/emember_protected]