A ROBOT THAT CAN PICK strawberries may ease the industry's labor problem and revolutionize the way crops are harvested. "This machine itself is being designed specifically for the strawberry," says Gary Wishnatzki, a third-generation family-owner of Plant City's Wish Farms, who is partnering in the project. "We're not going to stop with strawberries … There's going to be a lot of other crops that we're going to solve the labor shortage with."
INNOVATING TO SOLVE PROBLEMS
Wishnatzki is partnering with Bob Pitzer, an automation engineer, to develop the picker that may be available for commercial use in as early as three years. "It will be cheaper than their manual labor by the time we roll it out," says Pitzer, the robot's designer.
Pitzer's and Wishnatzki's Harvest Croo Robotics, a Tampa company, is being funded by farmers and up to $1 million from the National Science Foundation. "We're going to put the fun back in farming," Wishnatzki asserts.
Harvest Croo Robotics is testing a prototype designed to maintain 25 acres. Machines will run about 20 hours a day, potentially picking berries at the rate of .8 of a second, or 8.5 acres a day. "If there are a lot of berries, the machine will automatically slow itself down to get all the berries," Pitzer explains.
Strawberry growers in a 25-mile area around Plant City, dubbed the "winter strawberry capital of the world," depend on manual labor to pick the crop. But at times they've been struggling to find workers. The workers they have may move on to the next crop before all the berries are picked.
Kenneth Parker, executive director of the Dover-based Florida Strawberry Growers Association, acknowledges the industry needs to do what it can to make harvesting more efficient. "Gary is certainly an innovator … He has taken the initiative to try and it looks like it's going to work," he says.
"It's getting harder and harder every year to find people who are willing to pick strawberries. If the technology is available, I know everyone will go to it," says Lance Ham, owner of Farm N 4 U LLC on Hams Farm Road in Plant City. He expects to see automation elsewhere first. "I foresee the sprayers and our equipment being automated before this picking becomes automated," Ham predicts. "It's definitely going in that direction."
INNOVATING NEVER SLEEPS
Robots are used for repetitive tasks like vacuum cleaning. With the right information, the robot can be programmed to pick ripe berries with more precision than human pickers. Another big plus is that they can pick at night, when interior berry temperatures make berries more resistant to bruising. "The machine is going to know exactly where each plant is in the field. We'll be able to have yield data at the plant level," Wishnatzki explains. Parker agrees picking at night is a huge advantage. In addition to reducing bruising, lower temperatures at picking may have a positive effect on shelf life, quality, and cooling costs. "It won't take as much energy to precool the berries in the coolers," he adds.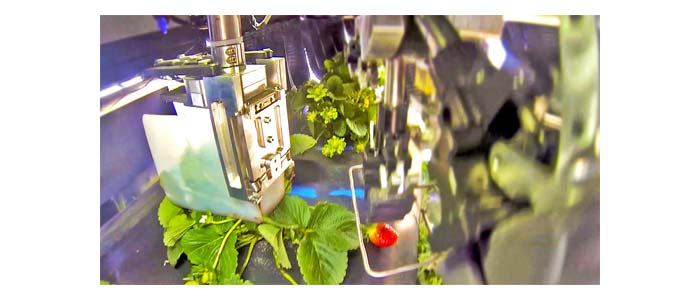 TESTING FOR MORE INNOVATION
The picker robot is under testing now. Next season, they'll test the transport platform, an autonomous robot. The transport robot will move 16 picking robots, which will glide through the fields as gracefully as a duck on a lake, according to Pitzer. Underneath, the pickers will be hard at work, much like a duck's paddling legs.
To Pitzer, who's been building robots since his days as a mechanical engineering student at the University of Florida, making a robot to pick berries isn't hard. The issue is having the robot do it quickly and process commercial volumes. "We're working on it. It's in the shop now. We're still integrating systems into it," he says. "It's a very complicated machine."
Development is expected to cost an estimated $5 million. Then they'll build the actual robots to be deployed on farms on a pay-as-you go, per-box lease, with investors in line for the service first.
Some 11,000 acres of strawberries are planted statewide, with sales valued at $350 million to $400 million annually, Parker says. The crop has an economic impact of approximately $1 billion.
INDUSTRY U-PICKS AND EVENTS
As part of the continued effort to innovate, growers are constantly looking for ways to help offset the costs of running a successful agriculture operation. Another way, besides looking to automation and technology, is by offering a U-pick to the general public when the fields are not being harvested for the packing houses. It's a growing trend that more farms are partaking in, called agritourism. Urban and suburban families will come out for "a day on the farm," enjoy the great outdoors while picking fresh fruit, then head back home. In Polk County, Kenny Futch, who owns the Zolfo Springs-based Futch Farms LLC, grows strawberries and markets them through Clear Springs in Bartow. For the first time, Futch Farms will be offering U-pick on 60 acres at 6105 Spirit Lake Road in Winter Haven. He plans to be open to the public daily beginning March 1, but their commercial harvest is already well under way.
Futch conveys that the farm is doing okay with the availability of workforce they have now, but he is "on the verge" of having to use the H2A guest labor program. "The month of February is going to tell if we need more [workers]," he observes. He's interested in a harvester that can pick as well as a manual laborer. "Yeah, it would be great," he agrees.
A recent two-day public event had people picking strawberries for a good cause. The FSGA held the fourth annual Strawberry Picking Challenge Feb. 10 and 11 to raise funds for the Redlands Christian Migrant Association, which runs 70 child-care centers for the state's rural poor. The industry is gearing up for its annual Florida Strawberry Festival, slated March 2-12, on Lemon Street at W. Oak Avenue in Plant City. This year's lineup of stars includes Willie Nelson and Family, The Bellamy Brothers, The Oak Ridge Boys, the Blues Brothers, Patti LaBelle, and Rascal Flatts' "RHYTHM & ROOTS" Tour.
INNOVATING WITH VARIETIES
So far this season, the crop has been tastier than ever. "The berries that I have had this year have been excellent. These warm days and cooler nights make for very good berries," says Alicia Whidden, an extension agent for commercial vegetables and small fruit in Hillsborough County for UF/IFAS.
Radiance makes up about 70 to 75 percent of the state's strawberry crop, but the newer Sweet Sensation is gaining in popularity; it now makes up 22 to 24 percent of the state's total crop, Parker says. Florida 127, marketed as Sweet Sensation, is popular for its flavor, good size, and high sugar content. Another variety, Florida Beauty, can possibly be marketed under the Sweet Sensation brand.
The UF/IFAS varieties, bred for some 70 years, are especially suited for Central Florida and other areas globally with a similar climate. They have been developed with conventional methods and are not genetically modified, a practice used to add traits not naturally present, UF scientists say.
The Florida industry's biggest competitor is Central Mexico, which has been expanding its acreage. "We have several advantages over Mexico. We are the most locally grown strawberries to two thirds of the population of the United States. And our shipping distances are greatly reduced," Parker points out.
U.S. Department of Agriculture trucking reports show Florida shipments, of 40,000 pounds, were up from 1,372 as of Jan. 29, 2016 to 2,494 as of Jan. 29, 2017. Shipments from Mexico were up from 2,218 as of Jan. 29, 2016 to 3,161 as of Jan. 29, 2017.
UF patents protect Florida varieties for three years, meaning the state's growers have the latest varieties. "We believe we have an advantage in quality," Parker states.
"This year's early cool weather put the plants into reproductive or fruiting mode, and it looks like that will continue for the rest of the season."