The New Crop on the Block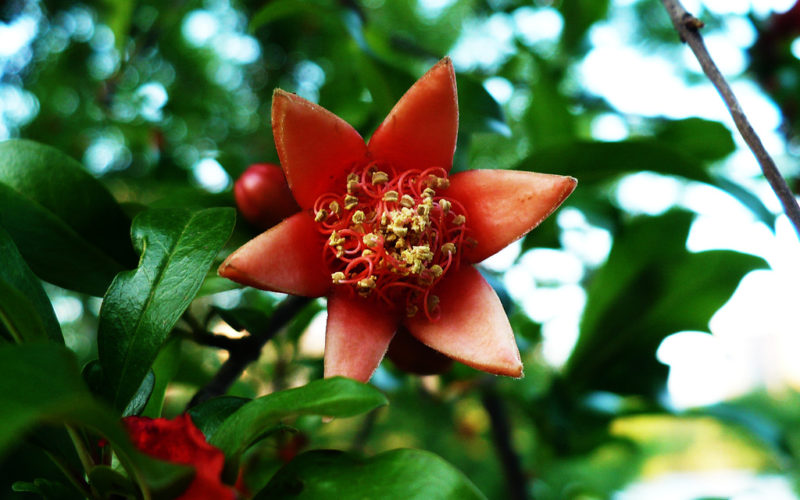 Growers Continue to Study Pomegranate as an Alternative Crop
Growers are continuing to experiment with pomegranates as a potential alternative crop, with test patches from North Florida to Homestead. And a new $190,000 study by the University of Florida's Gulf Coast Research and Education Center in Balm offers the hope of more solid information by next year.[emember_protected custom_msg="Click here and register now to read the rest of the article!"]
"What's going on out there is encouraging enough to keep us engaged in the project," says Dr. Bill Castle, professor emeritus for UF's Citrus Research and Education Center in Lake Alfred. "There is a lot of interest with small plantings of different varieties." Interest in the crop is budding, according to Cindy Weinstein, president of the 18-month-old Florida Pomegranate Association, which held its annual meeting Sept. 13 in Lake Alfred. Membership in the last year has doubled to about 110.
Here are some tips if you want to plant pomegranates:
• Younger tender pomegranates don't like Roundup, although older ones are more tolerant, Sutherland says. He devised an articulated sprayer that cut down on hand weeding.
• Pomegranates with softer seeds are more susceptible to cold.
• Don't even try to grow pomegranates in a low-lying area, Sutherland warns.
• A tree can expect to produce commercially for about 20 years, Weinstein says.
• Pomegranates can be spaced like citrus in a grove, she says.
• "Get at least four varieties," advises Weinstein. "That way you don't have your eggs in one basket."
• Pomegranates set better fruit if they have a good dormancy period, she says.
• Fruit from the first flowering is the best. Remove fruit from the second flowering for a bigger, tastier yield.
• Florida may have an advantage with soft-seeded varieties, Weinstein says.
Get more information at http://www.crec.ifas.ufl.edu/extension/
pomegranates/ or contact Weinstein at flpomegranate@gmail.com.
"More and more people are interested all the time," says Weinstein, who distributes pomegranates with her husband David through Green Sea Farms in the Zolfo Springs area.
Thousands of pomegranate plants have been distributed statewide within the last five years. "We don't know how many pomegranates are out there," Weinstein says, estimating between 100 and 500 acres.
The pomegranate is an ancient fruit. Some believe it was the apple described in the Bible—the apple Adam and Eve ate in the Garden of Eden. Many people are familiar with the Wonderful pomegranate variety available in grocery stores. But there are more than 500 different varieties, in assorted colors, used for food, medicine, cosmetics, and more. "In California, they are studying the roots for worming animals," Weinstein says. "The whole plant is filled with nutrients."
The pomegranate originated in the Mideast, where it thrives in the dry desert. The fruit matures in dry season, like in California. But in Florida pomegranates mature in the wet season. Fungus is a problem. "We are studying over 100 varieties right now for Florida, trying to see which ones are going to do best in which area," Weinstein says.
Nurseries growing pomegranates are donating them to the Balm center, so they can study more matures trees. "By the end of the year we should have a lot of good information," Weinstein adds. Through the study they hope to determine when fungus is entering the plant. "We believe it's starting to enter at the flower stage," she says.
Florida growers, who are quite accustomed to fungus, are using sprays to control it. Aphids and sucking bugs also are problems.
Meanwhile, Dr. Castle will be studying how well the pomegranates grow when they are treated like blueberries. Emory McTeer, who has just under an acre of pomegranates at the 60-acre McTeer Farms in the Haines City area, will be participating. "They will be right out in my blueberry field," he says. He currently has about 180 trees in 44 different varieties, as he tries to isolate varieties with commercial potential.
"People are interested in pomegranates because it's a health food," says McTeer. "I think there's a market for it."
After sinking $95,000 into his pomegranate farm, Chris Sutherland of Sutherland Farms in Plant City learned the hard way that Angel Red, a soft semi-seedless variety from California, doesn't do well in wet loamy soil. He planted two five-acre plots, and "babied them for four years," he describes. Those on a sandy scrubby hill look beautiful while those in "wet, rich, deep soil" were a disappointment.
"The weeds are growing faster than the trees," says Sutherland. But he plans to keep the good field. "I'm pretty skeptical. I'll probably fertilize it again next year," he says.
CREDITS
story by CHERYL ROGERS
photo by PEZZIMENTI
[/emember_protected]